Posted: December 29, 2003
Author: mAnChO
Manufacturer: Scythe
Source: Scythe

Cooling remains one of the main problems encountered by today's computer society, but as time goes on the thermal solutions available have gotten better. The battle between low temperatures and low noise is one that is continually fought. A new Japanese manufacturer, Scythe, might well have found an edge in this fight with their new Kamakaze heatsink. No, that isn't a typo... According to Scythe, this spelling of "Kamakaze" is Japanese for "Scythe Wind".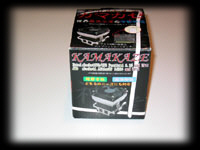 The cooler came expertly packaged in the colorful box pictured above. Mostly because of the large amount of Japanese print that engulfs it, the box may prove extremely confusing to the eye. Upon opening the box you notice that the box is just barely big enough to fit the cooler and all of its accessories, thereby giving it added protection. When all is said and done its is a quality packaging job.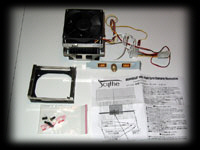 The Scythe Kamakaze appears to be built to the highest of quality standards. All of the pieces are well built and there are no obvious signs of poorly designed parts. The very first thing that you notice about the cooler is its Goliath size and incredibly high weight. An 80 mm fan sits atop a platform made with a solid copper core, which contributes to its heavy weight. Weighing in at an incredible 690g (1.44 lb) it makes my Thermaltake Volcano 7 seem like a feather.
If you remove the fan you notice the pins used to dissipate heat from the core...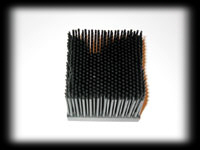 Although the pins are extremely useful and efficient, they are easily bent out of shape. One push or nudge on the side and the pins will be distorted and could cause a loss of efficiency (but one can easily bend the pins back into line with some cautious prying).
An extremely simple but effective fan controller is included with the Scythe Kamakaze. This variable fan speed controller allows you to directly adjust the speed of the fan... You can turn it down when your sleeping or crank it up while your playing your favorite video game.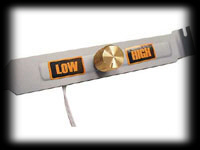 At low speed the Kamakaze is near whisper quiet producing 16 dba @ 1300 RPM, which is nearly inaudible. Even at full speed the Kamakaze only puts out 37 dba @ 3400 RPM, which is a slightly better number than the Thermaltake Volcano 7 which puts out 39 dba @ 5000 RPM. Although there isn't much difference in the amount of noise produced, the speed at which the fan is turning (RPM) is where the difference is. A fan turning at 3400 RPM can be expected to be quieter than a fan turning any amount higher.
Another great attribute of the Kamakaze is its versatility. The Kamakaze can fit both Pentium 4 socket 478 and Athlon XP socket A processors. With a change of the mounting bracket you can easily choose which Socket you will be using.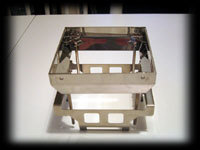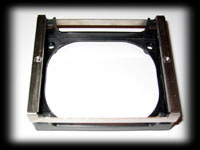 Socket A Bracket Socket 478 bracket
Manufacturer rated specs for the Scythe Kamakaze as listed on Scythe's web site:
• Model Name: Kamakaze
• Manufacturer: Scythe Co. Japan
• Compatibility: Pentium 4 Socket 478 up to 3.2 & Athlon XP socket A to 3400+
• Fan Dimensions: 80 x 80 x 25mm
• Heatsink Dimensions: 70 x 70 x 57mm
• Fan Speed: 1300-3400rpm
• CFM: 13.6 @ 1300rpm – 34 @ 3400rpm
• Fan Noise Level: 16dba @ 1300rpm – 37dba @ 3400rpm
• Weight: 690g (1.44lb)
Please read on to page 2 for more on the Scythe Kamakaze... Next
Page 1 | Page 2 | Forum | Review Index