Posted: November 07, 2003
Author: Jason Kohrs
Manufacturer: Logitech
Source: Logitech

Thanks to their extensive line of high quality input devices, Logitech has pretty much made itself a household name. Founded in Apples, Switzerland in 1981, Logitech has made their name with their line of high-quality keyboards and mice. Over the past few years Logitech has expanded their line of products, and the io Personal Digital Pen being reviewed is one of the more recent innovations to be released. The concept behind this device is quite novel and surprisingly simple all at once… To allow handwritten notes or drawings to be digitally captured by just the use of a pen!
The Logitech io Personal Digital Pen arrives in the box shown in the image on the lower right, and includes all of the items detailed in the list below.
Package Contents: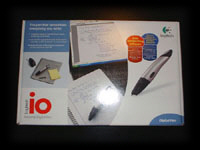 4Logitech io Personal Digital Pen
4Rapid recharging USB cradle
4AC adapter
4Software:
Logitech io
Post-it® Software Notes-Lite from 3M
Microsoft Internet Explorer
Microsoft .NET framework
product documentation
45 ink refills
41 Mead® Cambridge Limited® Digital Notebook
41 pocketbook of Post-it® Notes for Digital Pens from 3M
A closer look at some of the contents listed above...
The pen itself is quite a bit thicker than your typical ball point pen, but given the fact that it contains much more than a tube of ink, it isn't surprising. The contoured shape and soft rubber grip make for comfortable use, and the size was not an issue for me.
The rapid recharging USB cradle is a stylish looking component that accepts the pen tip first (minus the cap) for easy data transfer and to top off the battery at the same time. Although the AC adapter is not hard wired to the cradle, I found that it was necessary and had to be plugged in if I wanted it to function at all. I was hoping the USB port would provide the power necessary, but after unsuccessfully trying it plugged directly into one of my motherboard's USB ports and into an externally powered USB hub, I attached the AC adaptor as pictured below.
Now that we've taken a quick look at the io Personal Digital Pen, here is some of the information Logitech provides on their website…
Features:
4Digitally capture handwritten notes, drawings, and ideas
4Handwrite appointments and action items into Microsoft® Outlook® or Lotus Notes®
4Keep all your information organized in one place on your PC
4Find handwritten information quickly by using indexing and searching on your PC
4Always have your notes available, even when you're on the road
4Integrate with FranklinCovey's new digital planning pages (sold separately)
4Create Post-it® Note reminders on your PC desktop
4Write email when you're away from your computer
4Recharge every time your pen rests in its cradle
4Store up to 40 pages in memory between transfers
4Write like you normally do with regular ink cartridges
42-year limited hardware warranty
System Requirements:
4IBM or compatible PC
4Windows® 98, Me, 2000, or XP
4Pentium® II 233MHz or higher processor
4RAM: 64MB minimum, 128MB recommended
4Screen resolution of at least 800x600 and 256 colors
4300MB of free disk space
4Internet access
4Microsoft Internet Explorer 5.01 or later; Microsoft .NET framework (both included in box)
4Available USB port
4CD-ROM drive
4Pre-printed paper (initial supply included)
4Email support requires one of the following MAPI-compatible email clients:
Microsoft® Outlook® Express 5.0 and 6.0
Microsoft® Outlook® 97, 2000, and XP
Microsoft® Hotmail®
Lotus® Notes® 5.0 and above
Eudora® Mail 5.0 and above
Netscape® Mail 6.2 and above
Most of the system requirements are no big deal. The one item on the list that I couldn't believe at first was the "pre-printed paper". The pen shipped with a special notebook and a special pad of post-its, and initially I just thought these items were thrown in as a nicety. It turns out that the paper is special, and the pen can detect the small grid of dots printed on every page and must use this as its guide. A couple pages from the notebook and the post-it notes are pictured below...
Replacement notebooks aren't cheap! Once the included pad is full, one 80 page Digital Notebook by Mead is $9.99, available at CompUSA and Staples to name a couple main locations. That price seems a bit high for a notebook, so I decided to try photocopying sheets from the notebook to see if I could get around this… details on the success of this experiment discussed later.
Please read on to page two for more on the Logitech io Personal Digital Pen... Next
Page 1 | Page 2 | Forum | Review Index