Posted: May 09, 2003
Author: Jason Kohrs
Manufacturer: Enlight
Source: NewEgg

Power supplies are one of the most critical components of any computer system, as well as the one feature that may be most taken for granted. Although the power demands may be different between your basic desktop pc, a high performance work station, and a modder's showcase, they all require that ample power be provided to all of the components on a reliable basis.
One brand that may not get the most press, but has been putting out high quality power supplies for years is Enlight. Enlight is a Taiwanese company that has been around since 1973, and is also the manufacturer of the 420 Watt Dual Fan Power Supply (model #EN-8420934) available from NewEgg presented in the following review. Given the published specifications, this particular power supply could be worthy of consideration by most users... featuring above average power output, a below average price of $55 US, and sporting a reputation for quality.
The table below provides a brief overview of the power supply's specifications, as provided on the Enlight website...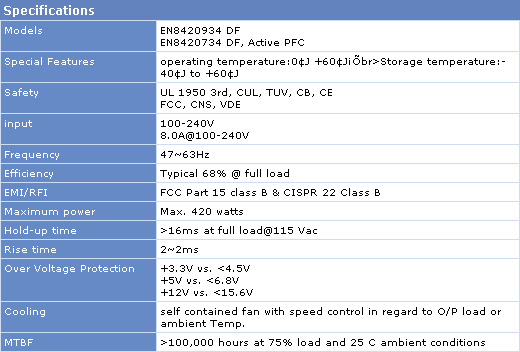 Of greater interest may be the DC output ratings for the various voltage lines, as pictured on the side of the unit...

The specifications are on par with other power supplies that I would consider to be in the same class. In particular, the +12V, +3.3V, and +5V lines all have respectable ratings which compare well with other units such as the Vantec VAN-420A (420 Watts), the Enermax EG465P (431 Watts), and the Thermaltake TT-420AD (420 Watts). For further comparison, the Enlight currently carries a price tag of $55 which is in the same neighborhood as the comparable Thermaltake power supply, but more than $25 less than either the Vantec or the Enermax. The Enlight unit being reviewed boasts a peak load of 420 Watts, with a maximum of 220 Watts available betwen the +5V and +3.3V lines. High end users and overclockers will be particularly interested in strength and stability on these two lines, and although the numbers aren't the best I have seen, they are respectable.

Lets take a look at the actual Enlight unit under consideration... The power supply arrives in the retail style package pictured below. This box is apparently used universally for all of Enlight's power supplies, and therefore provides no specifications on the box itself.

The contents of the box are pictured below, and include the following items: The power supply wrapped in plastic and bubble wrap, a power cord of about 5 feet in length, a bag of four mounting screws, and a "User Manual" featuring physical specifications and troubleshooting tips.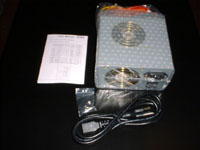 The two images below provide a closer look at the User Manual. Clicking the images will provide a larger view that should be clear enough to read.
With the power supply out of the wrapping, we get our first look at it (see images below). The housing is constructed of steel with a silverish-grey finish, and all of the hardware (screws and fan guards) have a gold finish. A feature I noticed immediately is that the fan guards are mounted to the inside of the power supply and are actually flush with the external surface of the housing. This seems like a simple thing, but I was impressed... In a previous review (link might not work, that site may be down) I ran into trouble mounting a dual fan Enermax power supply in an AMS gTower case because the cut out in the case interfered with the bottom fan's grill. I wound up using a single fan power supply on that case, but the Enlight would have allowed me to use a dual fan model as I prefer to do.
Three leads are provided for powering peripherals and drives, and each of these leads includes three (3) 4 pin connectors for use on items such as optical and hard drives as well as one (1) 4 pin connector for use on floppy drives. As pictured below, and with some basic math, these three leads therefore provide you with a total of nine (9) 4 pin peripheral connectors and three (3) 4 pin floppy connectors. More than enough plugs for most computers, without the need for getting creative to share power connections!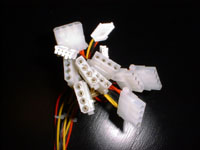 The image below shows the other four connectors you'll find coming out of the power supply. From left to right you have the 20 pin ATX mainboard connection, the 4 pin auxiliary +12V connection (P4), a 3 pin fan connection, and a 6 pin auxiliary connection. The 20 pin mainboard connection has a lead that is slightly shorter than others than I have worked with recently. It is not so short that it should create a problem, but to me was actually a benefit. Managing the thick lead from the power supply to the motherboard can be an issue, and the few inches missing made it that much easier to run the cable. Another note on these leads is the absence of any mesh wrapping... Some people may insist on this finishing touch, and although nice, I prefer to think the cost savings are worth it's exclusion.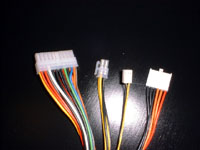 The 3 pin fan connector is a slight mystery to me. On other dual fan power supplies that I have used, this type of lead was used to power a variable speed fan that could be monitored via a fan header on your motherboard. The one included on the Enlight power supply may have three pins, but only two wires eliminating the possibility of speed sensing. As a test, I ran the system with this 3 pin connector disconnected, and both fans ran at the same speed as when it was plugged in. The function of this lead is not apparent to me, and I could find no details on Enlight's site to "enlighten" me.
All of the drive power leads have a substantial overall length, as well as generous spacing between each connector. You should not have a problem reaching any of your components, no matter how large your case is. The spacing between each connector on the same lead is noticably larger than other power supplies that I have worked with, which is also plus, allowing you greater reach and flexibilty during installation.
Please read on to page 2 for the installation, testing, and conclusion... Next