Posted: January 4, 2004
Author: Jared Kuolt
Manufacturer: CasEdge
Source: CasEdge

CasEdge, a leading contender in the computer chassis field, is now aiming its sights at the avid gamer market with the Diabolic Minotaur, or formally known as the 3GTH-202 Mid ATX Gaming Tower. The Minotaur comes in 5 color variations: Blood Red, Storm Blue, Electric Yellow, Arcane Purple and Venom Green. I was hoping for blue, but CasEdge sent over a red unit for review...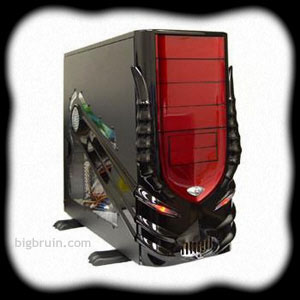 Other features are as follows:
• Case Window with Air Duct and filter (Intel 3GHz compatible)
• 120 mm fan at rear
• USB (2.0 compatible), audio, IEEE-1394 Firewire, and phone jack in front
• Tool-less Assembly
• Sliding Rails for all bays (5.25", 3.5" FDD, 3.5" HDD)
Chassis Specifications:
• Dimensions (DxWxH) 19"x 8"x 17" (490 x 200 x 430mm)
• Drive Bays 4x 5.25" Exposed, 2x 3.5" Exposed, 4x 3.5" Internal
• Front Panel 4 x Front USB (2.0), 1 x IEEE-1394 Firewire, audio and phone connector
• Power Supply SPI ODM 300w/350w/400w power supply
• Weight 26lbs. (11.7kg)
• Compatibility ATX, mATX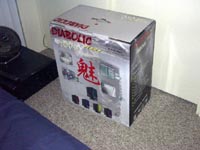 The case came in a non-standard cardboard box (pictured above); in other words it was not another obscure brown box. This one was actually quite informative about the product and was in full color. It has the usual feature list on either end as well as information regarding the tool-less assembly of the CD-ROM, HDD and FDD rails, motherboard and the expansion slots. The photos were detailed enough that I used them to supplement the manual.
Above left: Cold Cathode, Power Cord, Bracket, and Revised Manual. Above right: The side panel has a filter for incoming air, making it compliant with Intel's standards
Above left and right: Case insides.
The contents of the box are fairly boring and standard: case manual, power cable, cold cathode. Wait a second. This includes a cold cathode? I had to call CasEdge to confirm this was an inclusion and not something they threw in to spice up the review. To my surprise they do include the cathode at no extra charge! Touchι, CasEdge.
Please read on to page two for more on the CasEdge Diabolic Minotaur case... Next
Page 1 | Page 2 | Page 3 | Forum | Review Index