Posted: February 26, 2004
Author: Hellfire
Manufacturer: Archos
Source: N/A - Search PriceGrabber

Well, the wife has once again ďforcedĒ me to purchase an upgrade to a piece of hardware. This time itís my RCA Lyra HD Jukebox MP3 player (a hard drive based MP3 player, similar to the IPod, but cheaper). When I started checking out new hard drive MP3 players, I noticed ones that also played video, displayed pictures, and had other functions. Always wanting the newest toys, I decided to get one that plays video. Basically had the choice between RCA and Archos. The RCA was about $150 cheaper than the Archos, but wasnít as powerful either. Ultimately I went with the Archos because of some of the added features, and the expandability.
Specifications from the Archos website (a lot of impressive information here, and makes me very curious):
The ARCHOS VIDEO AV320 is the first handheld personal entertainment center. It combines a modular MPEG-4 video player and recorder(1), MP3 music player and recorder, digital camera and camcorder(2), digital photo wallet, and data storage in a compact device that fits in the palm of your hand.

MP4 video. The ARCHOS VIDEO AV320 is the first handheld MPEG-4 video player on the market. You can now enjoy anywhere 80 hours of near-DVD quality MPEG-4 video with MP3 sound.

MP4 video recording. It has never been so easy to recorder video and then watch them wherever you are.

Click the Digital Video Recorder onto your AV320 and record off your television, VCR or camcorder directly into MPEG-4. To make recording even easier a remote control is supplied with the Digital Video Recorder. What you will playback is an AVI format file with MPEG4-SP VHS quality video and MP3 stereo sound.

While a standard tape can only hold 2-4 hours of video, your AV320 has a 60 hours capacity (with DVR). More than enough to enjoy your favorite movies while on the move or, to take video information with you for your work.

* Depending on resolution chosen and on capacity of the Jukebox' hard disk. Figures given 20GB hard disk.

MP3 music. Complete MP3 functionality is included: record directly into MP3 from any audio source (stereo-set, computer etc.). The built-in microphone enables you to use the ARCHOS VIDEO AV320 as a voice recorder providing 1,000 hours capacity. Listen to your MP3 tracks from the ARCHOS VIDEO AV320 connected to your stereo set. You will never be without your favorite music- keep your entire CD collection on the ARCHOS VIDEO AV320 hard disk.

Photo wallet and viewer. The ARCHOS VIDEO AV320 can store up to 200,000 photos for easy viewing by your family, friends, customers or colleagues.

View videos and photos on built-in color LCD or TV.The 3,8" built-in color LCD lets you comfortably watch videos or photos while on the move. For large screen size display simply connect the ARCHOS VIDEO AV320 to your TV.

20GB USB2.0 hard disk.The ARCHOS VIDEO AV320 is based on a 20GB hard disk. Connect it to your computer and it will be mounted as an additional hard disk, on which you can store any type of data. The USB2.0 auto-connection ensures extra fast data transfer to and from your PC or Mac.
AV320 Video Recorder Features :

Capacity:

20 GB Hard Disk
(1) 1GB = 1 bilion bytes, formatted capacity is less

Interface:

USB 2.0, extra fast, compatible USB 1.1, PC & Mac .

Video playback:

MPEG-4 SP with MP3 stereo sound, near-DVD quality. Resolutions up to 640x368 @25 f/s AVI file format, reads XviD and DivX"* 4.0 & 5.0.

Music playback:

Stereo MP3 decoding @ 30-320 kb/s CBR & VBR

Music recording:

Stereo MP3 encoding @ 30-160 kb/s VBR

Photo viewer:

JPEG (except progressives) or BMP

Display:

3,8'' color LCD (QVGA) 320xRGBx240 pixels or TV

AV Connections:

Stereo analog Line In & digital SPDIF Line In/Out. Composite Video/ Earphone/ Line Out jack. Built-in microphone.

Playback Autonomy :

Up to 10 hours on MP3 or 3 1/2 hours for video on built-in LCD

Scalability:

Downloadable firmware updates from www.archos.com.

Power Source:

Internal: Rechargeable Li-Ion Batteries. External: AC charger / adapter.

Dimensions & Weight:

112 x 82 x 31 mm (4.4" x 3.2" x 1.2"). 350g (12.5 oz)

JBM DVR Features :

Connection:

Plugs into AV320 expansion port.
RCA jack for composite video or MiniDIN socket for S-video (NTSC or PAL)

Capture rate:

PAL : 320x240 @ 25 f/s, NTSC / 304 X 224 @30 f/s

Video Input:

Analog Composite Video or S-video

Audio input:

Analog stereo audio Mini-jack - RCA

Video compression:

mpeg-4 SP with MP3 stereo sound in AVI format (can be read by XviD or DivX™* players)

Audio compression:

Stereo MP3 96-192 kb/s CBR (Constant Bit Rate)

Dimensions & weight:

60 x 54 x 30mm (2.3''x2.1''x1.2''), 45g (1.5 oz)

Systems Requirements:

PC: Pentium ii 266 MHz. Windows 98SE, ME, 2000, XP, 64 MB RAM
MAC: 9.2 or 10.2.4 iMac, G3 or higher

Package Included:

AV320 Video Recorder, USB 2.0 cable, AC adapter, Li-Ion batteries (already installed), stereo headphones, AV cinch cable (SCART adapter in Europe). CD with MusicMatch™, drivers and 6-language manual. Digital Video Recorder, audio & video cables, remote control and 6 langage installation sheet.

Packaging:

The packaging lists everything you need to know about this player. Even shows you an example of what the player looks like turned on (although it doesnít do it justice). Being that this is a hand-held device you really need to have one out of the package to really see what itís like.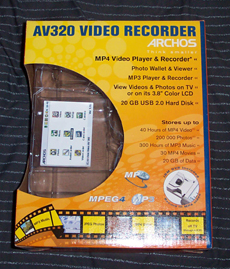 On the back of the package, it tells you some of the capabilities. Even touches on itís expandability (expandability on a MP3 player?).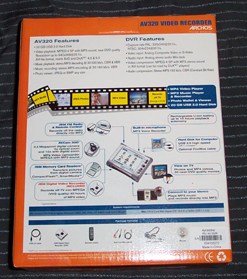 Please read on to page two for more on the Archos Video AV320... Next
Page 1 | Page 2 | Page 3 | Forum | Review Index