Ultra Products Fan Commander - Page 1 of 5
At one time computers only needed one or two fans to keep them cool. Today, our computers are running hotter than ever before, and to combat the heat we add multiple high-speed fans. Unfortunately, each fan we add increases the noise level. Ultra Products has a new fan controller called the Fan Commander which can control up to seven fans, and monitor three temperature probes. Controlling all your fans in one location will help you save time while also achieving the perfect balance between noise level and cooling performance.


Specifications (taken from the Ultra Products website):

The Ultimate Fan Commander
You'll be able to exercise total temperature control over your system with this Fan Commander. And isn't that the way it should be? The Fan Commander features an auto control setting with alarm that activates fans to run at full speed in order to cool down to a safe level if your PC's temperature exceeds a certain default limit. Black or Aluminum Finish bezel is included. Monitor CPU, HDD, and System temperature from one location. LCD also features date, time, and a HDD status light indicator. This easy to install device puts you in control of your system.

Specifications
• Drive Bay: 5 1/4"
• Dimensions:
• 3 7/8"x5 1/4"x1 3/4" (LxWxH)
• Color Back Light Display:
&nbsp&nbsp&nbsp• HDD Status
&nbsp&nbsp&nbsp• Fan Selection
&nbsp&nbsp&nbsp• Fan Speed (RPM)
&nbsp&nbsp&nbsp• Overheat Warning
&nbsp&nbsp&nbsp• Key Lock
&nbsp&nbsp&nbsp• Time
&nbsp&nbsp&nbsp• Date
&nbsp&nbsp&nbsp• Fan Speed Status Bar
&nbsp&nbsp&nbsp• CPU Temperature
&nbsp&nbsp&nbsp• System Temperature
&nbsp&nbsp&nbsp• HDD Temperature
• Alarm Temperature Setting: 65°C / 149°F (Default)
• Alarm Failure Fan Setting: 7 Fans
• Fan Voltage: 12V

Packaging:

The Fan Commander is packed in a vibrant retail box that gives you a great deal of information about the unit. The back of the box gives you a brief overview of its features.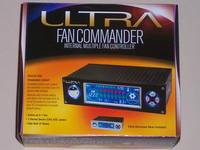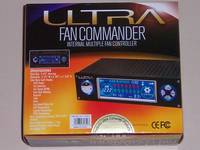 Opening the box you will find the Fan Commander is packed between two fitted foam blocks that helps keep it stable, and absorb any shocks from shipment. To help keep it looking nice, they have also placed the unit in a plastic bag. On the top of the unit is the extra front silver bezel, I found that this was wrapped in a separate bag. All of the accessories are wrapped in a separate bag placed in the back of the box.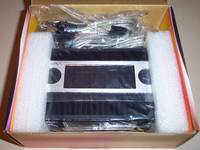 Please read on to the next page for more... Next




Page 1 | Page 2 | Page 3 | Page 4 | Page 5 | Home

Forum | Content Index | Image Hosting

Page Views: 14782