Posted: September 12, 2003
Author: Jason Kohrs
Manufacturer: Seasonic
Sponsor: Seasonic

For the most part, Micro ATX power supplies aren't much to get excited about. If you have a Micro ATX system, or perhaps an eMachine type system running on a Micro ATX power supply, you probably have a fairly generic power supply that gets the job done, but not much more can be expected of it. These systems are meant to be basic, and adding just a few more components... such as drives, fans, or lighting modifications, might be enough to send the power supply to an early grave. If it ever becomes necessary to replace the power supply in such a system, quality choices are few in numbers. Seasonic has recently introduced the Super Versatile 200W mATX power supply, which will not only replace a generic power supply, but can actually be considered an upgrade.
Seasonic may not be a new name in the power supply market, but the features and performance of their recent products have helped earn them widespread recognition. The unique design features of Seasonic's top of the line Super Silencer 400W ATX power supply have garnered Seasonic the most attention, and many of these features have also been included in the Super Versatile 200W unit, making it anything but your generic mATX power supply.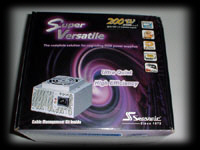 The Super Versatile arrives in the box pictured on the left. Every external surface of the box is used to detail some aspect of the products features, specifications, performance benefits, and anything else you might want to know about it. The below left image details everything included in the box. Going clockwise from the upper left hand corner, you have: the power supply protected with bubble-wrap, a bag of mounting screws, "Dr. Cable" (explained later), a manual and warranty information, a power cable, and the "Magic Bracket".
The above right images shows greater detail of the Magic Bracket, which is a special adaptor plate that will allow you to universally mount the power supply on most any mATX, ATX, and some proprietary configurations. This image also shows the large extent to which the rear surface is perforated, to allow as much cooling airflow as possible.
The above left image provides a look at the power supply, and its small bundle of wired leads. The unit utilizes one 80 mm fan for cooling, which draws air in from the case and exhausts through the perforations on the rear. The above right image shows the published specifications for the 200W unit, and although they may look low to those used to behemoth 500W ATX power supplies, the ratings on the various voltage rails are quite respectable for a mATX unit. In addition, although the Super Versatile is advertised as a 200W psu, it actually has a peak power rating of 230W, which is detailed in the literature.
The graphic below (provided by Seasonic) details the individual power connectors on the Super Versatile 200W. You have (4) 4-pin Molex connectors, (1) 4-pin floppy connector, (1) P4 connector, and (1) 20-pin ATX motherboard connector. Not an overwhelming number of connections, but again, this is intended for use in a micro system, where you might be hard pressed to use all of these connections (and as the review will show, it can support more devices daisy chained off these power leads).

The graphic below (provided by Seasonic) details some of the Super Versatile's special features, with details provided below the graphic...
S2FC - automatic fan speed control for optimum cooling and minimum noise:
4Silent enthusiast's best choice
4Reduces noise without increasing temperature.
4Extends fan life by eliminating unnecessary rotation.
4Automatic temperature adjustment prevents manual errors.
Magic Bracket - Universal backplate for mounting the power supply:
4Upgrading your OEM PC is simpler than ever
4Easily adapts to different OEM designs with a customized bracket.
4Free customized bracket for ATX, Micro ATX and PS3 form factors.
75% Efficiency - Energy efficient unit that saves electricity and produces less heat:
4High Efficiency (up to 75%)
4Cool, quiet, reliable & energy saving
4Surpasses the market average efficiency of 68%.
4Saves 9.3% energy; runs 28% cooler.
4Optimal solution for low noise, thermal & high reliability.
Dr. Cable - cable management kit including two lengths of spiral wrap and several zip ties:
4Make your PC tidy & neat
4Tidy up messy wires quickly.
4Eases access to the connectors.
4Smooths airflow to improve cooling.
Dr. Cable can be seen in action in the images below. These images detail the installation of the Super Versatile power supply in a Maxtop CSX-001 mATX case, as reviewed here, with a before and after shot of the wire management. On the left you can see that all I could really do was wad up the excess cable and shove it to the rear of the hard drive bays... Which seemed o.k. to me while using the power supply that came with the case. The image on the right reveals how much more organized it can be, and how much more open space is possible through the use of the Dr. Cable components. Definitely a nice touch to find such a thing included with a power supply.
Please read on to page 2 for on the Seasonic Super Versatile 200W mATX power supply... Next
Page 1 | Page 2 | Review Index