Posted: September 02, 2003
Author: Matt Bunnell
Manufacturer: Seasonic
Sponsor: Seasonic

The Seasonic Super Silencer 400 Watt Power Supply Unit was installed in the following test system:
4ECS K7S6A Motherboard
4AMD 900MHz T-bird Processor
4Western Digital 30gig HDD
4Chaintech 32meg AGP Video card
4256meg DDR ram
4HP 8x4x32 CD-RW
4Toshiba 16x DVD ROM
4Generic 1.44 floppy
With the Seasonic Super Silencer installed I fired up the system and promptly went into the BIOS to get a quick check on the voltages, everything looked fine. But wanting a more detailed look at how this PSU performs, I installed and set up Motherboard Monitor 5. As you can see, at idle, the voltages are quite acceptable.
So I ran Folding @ Home for a few hours to see how this Seasonic PSU would handle a little load. With the CPU at 100%, the voltages hardly fluctuated. Also note how the PSU fan runs very slowly (and very quietly). The case temp rose only 2'c, while the CPU rose a full 5'c after running F@H for several hours. Not bad at all!
I also ran a Hi/Lo recording of the PSU performance using Motherboard Monitor 5, as you can see all voltages are very consistent. This is a very good performer.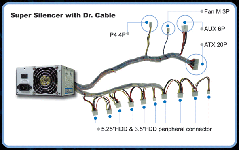 Now we get to the 2nd unique item. Dr.Cable consists of 2 sizes of cable wraps, an adequate supply of nylon zip ties and a cable mount. Installation is simple, wrap the ATX power cable with the large cable wrap and use the smaller one for the molex power lines. You can use the nylon zip ties for any other wires flopping around and the cable mount to attach the cable out of the way.
Conclusion:
The Seasonic Super Silencer is a well made power supply. At 400 watts it should be more than ample to feed the average PC with all the necessary power required. This is a quality made product that should give many years of trouble free service. And would be a great PSU for all of us "GEEKS" out there that get "hamstrung" into building a computer for Aunt Sue or the next door neighbor who just want to check their e-mail or some occasional gaming. I think this PSU would also be a good 2nd power supply for those that use a separate PSU to power all case fans or a water cooling setup. BTW, after installing the Seasonic Super Silencer in my "problem" system, I do not get the lines in the wallpaper, no mouse freezing, and system crashes have disappeared!
For those interested in making a purchase, the Seasonic Super Silencer 400 Watt unit is not as readily available as many other brands of power supplies. A complete "where to buy" list can be found here, and at the time of this review only contains four stores. All of the stores that carry this unit list it at $99.95 US, which may be higher than most 400 Watt power supplies, but it is very respectable considering the quality and "silence" offered.
Pros:
4Very quiet operation (I hardly knew the unit was running).
4Good number of molex & floppy connectors with ample leads for all but the largest of cases.
4The addition of the Dr.Cable system is an excellent idea.
Cons:
4Not as readily available as many "major" brands of power supplies.
Special thanks to Seasonic for supplying the Seasonic Super Silencer 400 Watt Power Supply to BigBruin.Com for review!
Please drop by the BigBruin.Com Forum and feel free to discuss this review
Page 1 | Page 2 | Review Index