Posted: February 09, 2004
Author: Dud3!
Manufacturer: Startech
Source: ADPMods

KVM switches are nothing new to the computer world, but have grown in popularity in home environments as the average user is now more likely to have more than one computer in their home. For those unfamiliar with KVM (Keyboard Video Mouse) switches, they are relatively simple devices that allow two computers to share one keyboard/monitor/mouse and free up the desktop real estate that would otherwise be taken up by having one set of each for both computers.
The unit being reviewed is the Startech SV211MICRO Two Port Micro KVM Switch provided to BigBruin.Com for review by ADPMods. ADPMods is a Canadian retailer that considers itself the "Canadian Case Modification, Cooling and Cable Sleeving Source" and in case you are wondering, the ADP in ADPMods is short for Auto Delete Pro.
The KVM switch comes in the plastic retail packaging pictured below that lists the following features:
• Unique built-on cable KVM technology makes the SV211MICRO the smallest two port KVM switch ever developed.
• Allows two computers to be operated with one PS/2 keyboard, PS/2 mouse, and VGA monitor.
• Uses high quality mini-coaxial cables
• Comes with convenient loop to free up desk space
• Backed by StarTech.com's one year warranty
Contents:
• SV211MICRO two port KVM switch
• Instruction guide
• Hotkey reference sticker
The Startech SV211MICRO proudly proclaims "Smallest KVM switch in the WORLD!" on a gold sticker on the front of the package, and that's probably the case. I certainly haven't seen a KVM that's smaller. Like an I/O Gear KVM I saw about two years ago, it is built onto the end of the cables, eliminating the space consuming connectors found on a KVM like the one I was using.
Specifications (from manual):
Maximum connected PCs: 2
Maximum VGA resolution: 1920 x 1440 DDC2B
Cable length:Cable A: 2 ft. (60 cm)
Cable B: 6 ft. (180 cm)
Keyboard/mouse connectors: PS/2 miniDIN6
Monitor connector: HD-DB15 female
Dimensions (H x W x D): 0.825 x 2.0 x 2.45 in. (21 x 50 x62 mm)
Power consumption: Negligible (from computers)
Certifications: FCC, CE, VCCI
As you can see in the below left image, it is extremely compact, and the cables are a great deal more flexible than the bulky ones on my old KVM (below right image). When I first saw the cables I worried about the video quality. Having been through cheap KVMs in 2002, I was familiar with what a bad KVM will do. I was curious to see whether I would get any "ghosting" or other anomalies with this KVM.
No problem! The cables are obviously very high quality, and the way they're made (mini-coaxial instead of regular cables) lets them be small and flexible, yet not sacrifice signal quality. I first tested the KVM with my secondary computer which uses an old 17" CRT monitor at 1024x768 resolution. The display was flawless and I couldn't spot one problem or difference with the picture quality. To make sure, I connected it to my new 19" CRT and tested it from 1024x768@100Hz to 1600x1200@75Hz and still didn't see a problem. It's safe to say that video quality isn't a concern with the SV211MICRO.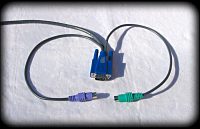 Please read on to page two for more on the Startech SV211MICRO 2 Port KVM Switch... Next
Page 1 | Page 2 | Forum | Review Index