Posted: December 03, 2003
Author: Spire
Manufacturer: PC Toys
Sponsor: PC Toys

From the PC Toys website:
"PC Toys was born from the radical, performance addicted PC counterculture that breaks through the main stream technology and design. Typically, you could only find those exotic, leading edge components and modifications on cult internet sites or the pages of "what's new" PC magazines. Founded in 2002, PC Toys is committed to one goal – bring the latest technology, performance upgrades and aesthetic enhancements to your PC."
PC Toys was kind enough so send their new, silver, micro ATX case over for review... the SimpleMax 101. The image below is a stock photograph showing the SimpleMax 101 in it's three color choices: while, silver, and black...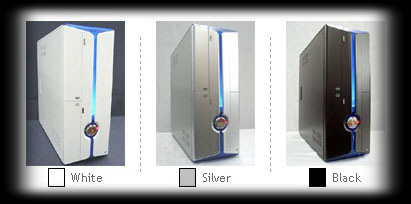 Basic features (as taken from the PC Toys website):
• Dimensions (WxHxD) (inches) 5.25" x 14" x 15"
• Drive Bays: (2) 5.25" Exposed and (1) 3.5" Hidden
• Main Board Size: P4 Micro ATX & Flex ATX
• Accepts full height AGP card
• Expansion Slot (4)
• Standard USBx2 + mic + spk
• (1) 60mm Cooling fan (despite what the website says, there are actually 2 fans included)
• P4 & AMD Compatible 200W Power Supply
Unpacking:
This case came nicely packed in the standard fashion, plastic wrap and foam protectors. All the necessary parts for installation came packed loose inside the case, a standard supply of screws, power cord, and a special adapter to allow installation of a floppy drive.
For a true appreciation of the SimpleMax 101's mATX size, the two images below show it side-by-side with a typical ATX mid-tower case...
Under one front door is connectors for 2 USB ports, a punchout for future Firewire and headphone/microphone connectors. The fit and finish of this case are very nice, no sharp edges, all joints are tight, and paint is nice and smooth. On the back is a standard, colored atx port cover that is punched for removal if necessary. 2 slimline, 60mm fans, mounted on the backplane, are also included with the SimpleMax 101.
Also included is a nice looking golden 200 watt micro atx form power supply with both P4 power connectors, 4 Molex and one floppy style hookups. Specifications for this power supply are visible below...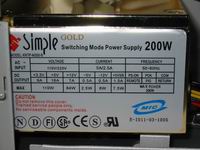 Please read on to page two for more on the PC Toys SimpleMax 101 mATX Case... Next.
Page 1 | Page 2 | Page 3 | Forum | Review Index