Posted: December 09, 2003
Author: Spire
Manufacturer: Maxtop
Source: Maxtop

What Maxtop has to say about themselves...
Maxtop's philosophy is simple: provide solid, reliable cases with eye-catching and aesthetic designs to the customer, and follow that with fantastic after-purchase customer service and support to maintain a business relationship that will last a lifetime. At Maxtop, the customer comes before all other concerns, and we will do whatever we have to to make your purchase a decision you can be proud of for years to come.
Maxtop sells all kinds of cases from their little mATX Spybox, to rackmount server solutions. They also carry power supplies, cold cathodes, lighted fans, and a whole bunch of other goodies. This time around they were kind enough to send over their Signature Series, the Type IV CSX-147KBF-TOP, shown animated below, as well as two static images below the specifications...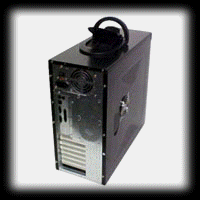 Case Specifications (from the Maxtop Site):
• Name: Signature Series Type IV CSX-147K (B/G) F-TOP
• Type: Mid Tower PC
• Dimensions: 17"H x 8"W x 18.5"D
• Drive Bays: 4+2+4
• Incl. PSU: 350W
• Front Ports: USB(x2), sound card (Top)
• Fan Mounts: 92x1, 80x3
• Colors: Black, Gray
• Accessories: Side Window, Lighting
• Features: Top Handle, Stealth Fan, Convenience Ports
This Maxtop exclusive ATX case comes with a Qmax 350 watt ATX powersupply, power cord, an entire second set of beige drive bay covers, a set of feet, small bag of hardware, a board mounted piezo speaker, and what appears to be a backplate for AT style motherboards. Not sure about the AT appearing backplate, but if one is necessary, this is the case to get. This case can be had at many locations including Newegg for right around $40.00
Opening the side panel of the case, I noticed a whole lot of wires coming from the top of the case. First, you have 2 shielded USB wires and then 2 audio wires for microphone/headphone connections. Not seeing any USB connectors or other connectors, I started to investigate further. It turns out there are two click-to-open doors on top. The smaller of the two doors opens to allow access to 2 USB ports, a microphone and headphone jack, and a punchout for a 1394 Firewire connector.
The second, larger door on the top surface of the case has an 80mm fan on hinges. When the door opens, the fan rotates up slightly, and also allows everything to be closed down for transportation. Having a "blowhole" fan can significantly reduce interior case temps. There were still way too many wires coming from the top of the case to just have one normal fan. It seems that Maxtop has added not only a 3 speed fan switch, but also another switch built into the latch of the larger door that turns the fan off when the door is closed. The 3 speed fan switch is located in the bottom right corner of the small door area. Part of this top assembly also pops up and becomes a sturdy handle. I had no fear of carrying this case around using the handle, even fully loaded.
Please read on to page 2 for more on the Maxtop CSX-147KBF-TOP Case... Next
Page 1 | Page 2 | Forum | Review Index