Posted: April 09, 2003
Author: Jason Kohrs
Manufacturer: Logitech
Source: N/A (Search PriceGrabber for Best Deal)

5.1 stereo sound is supported by just about every new sound card and has become a standard feature on most motherboards with onboard sound. Multimedia applications, video games, music, and movies demand a serious set of speakers to complement the capabilities of the computer they are attached to. Up until recently, users were forced to either pay a large sum of money for a 5.1 speaker system, or hobble together their own mixed and matched speakers to create a 'budget' oriented 5.1 system.
Logitech may best be known for their line of keyboards and mice, and many people may be suspicious that serious sound quality would be a feature of their speakers... especially with a selling price of less than $70. The Logitech Z-640 stereo speaker system may be the solution for people looking for serious 5.1 stereo sound that doesn't break the bank.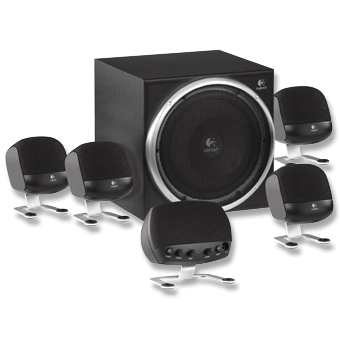 Features, as provided on Logitech's website:
Patented subwoofer design delivers twice the bass energy of conventional designs

Innovative satellite design with rotating pedestals that allow for wall or desk placement

Internal power supply eliminates bulky wall adapters

Easily hook it up to your video game console with our included adapter cable
Specifications:
Total output power: 71.2 Watts RMS

Subwoofer power output: 25.7 Watts RMS

Satellite speaker power output: 45.5 Watts RMS (2 x 7.3w Front; 2 x 7.3w Rear; 16.3w Center)

Total peak power: 140 Watts

System frequency response: 35Hz - 20kHz

Signal-to-noise ratio: >75 dB

Input impedance: > 5,000 ohms

Shielded satellites for use near video monitors
System Requirements:
PC
For 5.1 surround sound: any 4 or 6 channel sound card

For Dolby Digital 5.1 sound: sound card or software DVD player with built-in Dolby Digital decoding
Video Game Consoles
A PlayStation, PlayStation 2, Xbox, or Nintendo GameCube using stereo RCA (red and white) audio cables
TV
The Z-640 speaker set arrives in the box pictured below. All of the features and specifications are detailed on the outside of the box, just in case you are shopping at a retail store, you can read up and be informed before you make your purchase.
Inside the box you can see that every component is well packed. Each speaker is sealed in its own plastic bag and isolated from damage by substantial amount of Styrofoam. There is a top shelf in the package that contains three of the satellite speakers and below this you will find the fourth satellite speaker as well as the center channel speaker and the subwoofer.
To get into detail on the Z-640's please read on to page 2... Next