Posted: January 25, 2004
Author: Jason Kohrs
Manufacturer: iRock!
Source: iRock!

At this point, every name in the computer / consumer electronics market seems to offer a digital audio player. With ever expanding choices in physical size, media capacity, media format, and style features... A consumer is sure to find a device that fits their personal tastes. One name in the crowded digital audio player market is iRock!, a company focused solely on MP3 players, related components, and accessories intended to compliment their products.
The iRock! 830 being reviewed is one of their more recent releases... A compact and lightweight device featuring an 128MB MP3 player and digital FM tuner housed in the stylish enclosure pictured below.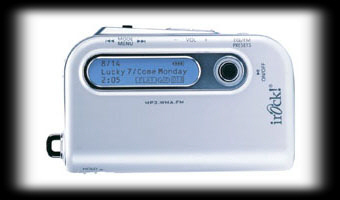 The Basics:
The iRock! 830 comes packaged in the clear plastic bubble as pictured below. Although it may be an attractive display that features a good look at the product and its published features, I prefer a package that I don't have to destroy to open. Not a big deal, just my two cents.
The images below shows the contents of the package (minus the player). The image on the left features; foam pads for the earbuds, earbud style headphones, 1 AA battery, USB cable, and a wrist/neck strap. The image on the right features the User's Manual, Quick Start Guide, details on some of the MP3's pre-installed, and the driver/application CD.
The headphones are light, but sturdy, and have one rounded wire running from the 1/8" stereo plug to just shy of the left earbud. The right earbud has a longer lead than the left earbud, and this asymmetrical design is very comfortable, and seemed to help keep me from getting tangled in the wires.
Taking a closer look at the iRock! 830 itself...
Its an attractive little item with styling similar to an iPod. It accepts one AA battery in the rear compartment, and the various buttons and switches control the MP3 playback and FM tuner with relative ease. A small rubber flap covers the USB connection, and on the far side there is a switch to place the device on "hold" which locks out the rest of the buttons to prevent accidental operation while in use.
And to make sure the compact size of the device is understood...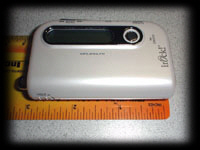 And slipped into its 'leather' carrying case...
The leather case is well designed. It has cut-outs and flexible areas in just the right locations to ensure that the device remains fully functional, and the clear plastic window allows an unobstructed view of the display. It also allows the use of the wrist/neck strap, as well as providing a snug belt clip to keep the device secure during use.
Please read on to page two for more on the iRock! 830 128MB MP3 Player.. Next
Page 1 | Page 2 | Page 3 | Forum | Review Index