The Basics (continued):
This is the back side of the case. While it looks to be a plain, non-descript cover - it too is hiding
Cooler Master
Magic. I'll go into that more later - and I think you'll be impressed, I was!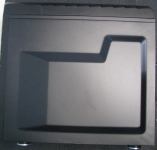 Here we see the side of the case with more mesh venting that can even take another 200mm fan… all I have say is this case is capable of moving more air than a small tornado.
You'll also notice that a handle is included on the side that makes for easy removal of the side panel. As well as easy removal, it goes on pretty easily as well - one of the easier sides I've ever used.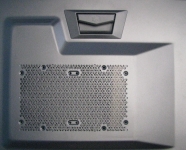 Here we get to see the back of the case, and yes that's another fan. However it's only a puny 140mm fan, so if you decided to use it on your hovercraft you might need two.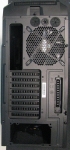 The power supply area is located on the bottom of the case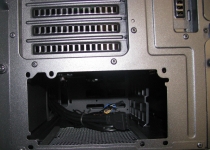 And below the power supply is another mesh area allowing you to place your power supply fan on the bottom of the case and it gets to suck in nice cool air. I'm sure it will appreciate you doing that for it, and reward you with years of reliable service. I'm sure the engineers at Cooler Master would take a thank you note if you wanted to send them one.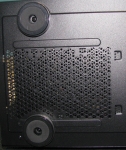 Another interesting feature of this case it the built in whole with rubber grommets allowing you to run cables or water cooling outside the case very easily. These engineers have really been listening to customers is all I have to say.