Ulti-mat Precision Mouse Pad - Page 1 of 1

Mouse pads are obviously simple devices that many of us neglect to upgrade when we buy new computers. We get comfortable with something we have always used, and just stick with it because we don't realize better alternatives exist. Ulti-mat is making an effort to change this by providing a smooth mouse pad that helps users get more accuracy out of their optical mice. Lets see if this product has what it takes to replace the free plastic mouse pads standard in businesses and homes everywhere...


Company Profile (taken from Ulti-mat website):

"Ulti-mat Ltd is found in year 2000. The first mouse pad version was manufactured in 2002. Ulti-mat Ltd launched the first complete mouse pad on 2.8.2004 at the Assembly04 event in Helsinki. We were surprised of very positive acceptance from the customers, which was given to us at this event. Because of the good acceptance, we decided to continue the development of our first commercial product and bringing out improved products."

Product Specifications & Features:

Listed below are the specifications that make the Ulti-mat special. Pictured below is the reusable cardboard box that the Ulti-mat arrived in from the review sponsor, Xoxide. The mouse pad and a bag of Ulti-mat mouse "Skates" are included in this particular package.

Specifications:
• Size: 11.82" x 9.85"
• Total Thickness: 0.12"
• Surface: Teflon Coated Steel Plate (0.04" thick)
• Backing: Foamed Plastic (0.08" thick)



Quality:

When you pick up this mouse pad, the first thing you will notice is the obvious weight of the Ulti-mat. The 0.04" thick steel plate is most notably the reason for the high weight. The top surface of this pad is smooth to the touch, don't even think of comparing your cheap standard plastic mouse pads from a computer manufacturer to this pad. Also worth noting is how good the pad looks. It is black in color and it almost sparkles when the light hits it (look at the detailed photos below).



The bottom of the pad is a foam-like plastic that easily gripped my laminated wooden desk. Pictured in the below right image are the Ulti-mat Skates, which are teflon strips attach to the mice to further reduce the effort required to move a computer mouse.

Operation & Use:

I tested this mouse pad using two different Logitech mice, pictured below. Both mice were tested using the standard Logitech mouse feet and the Ulti-mat Skates that were included in our package. Both feet provided a smooth mousing experience, however a noticeable reduction in friction was noted when the Skates were attached to the mice. Although Ulti-mat suggests a mouse with an optical resolution of 800dpi, my older 600dpi optical mouse also performed without issue.



You will notice an obvious scratch in the picture below. This scratch was my fault (it happened when I was photographing the back of the mouse pad), but it shows Ulti-mat's scratch "resistant" teflon coating is not fool proof.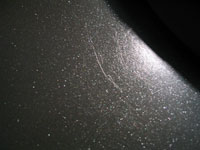 I should add one last note on the mouse pad use... Because this pad contains a metal plate it feels "cooler" than plastic pads at room-temperature. It may take you just a few hours to become comfortable with this new colder feeling on your hand.

Conclusion:

The Ulti-mat Precision Mouse Pad is obviously targeted towards the computer enthusiast when you consider the $39.99 (plus shipping) price tag at Xoxide. Other than the high price, this pad delivers. It is by far the smoothest pad I have ever used, and the scratch-resistant teflon coating seems to hold-up if you are relatively cautious. This mouse pad was obviously designed for optical mice, so keep that in mind, and don't forget to use the provided Skates. The Skates made for a noticeable improvement on both test mice as it lowered the friction by a fair amount.

As I said, this mouse pad definitely delivers, but the high cost hurts the overall score. Although this mouse pad makes mousing nearly effortless, only die-hard computer enthusiasts will even consider buying a mouse pad for nearly $45 (including shipping). Ulti-mat should look into lowering the cost of this item, then I think they'll have a real winner on their hands. I would be glad to give it five out of five stars if the price was more competitive as compared to the handful of other gaming pads Bigbruin.com has reviewed. I couldn't convice friends to buy this pad at this price, based on my experiences with lower priced pads.

Final Rating (3 out of 5 stars):


Pros:

• Smooth, low friction surface
• Optical Mice track great
• Mouse Skates are included with the package

Cons:

• Teflon coating can get scratched if your not cautious
• Relatively high price for a mouse pad
• Metal in the pad will make it feel "cooler," this may take some getting used to

Special thanks to Xoxide for providing the Ulti-mat Precision Mouse Pad to Bigbruin.com for review!

Please drop by the Bigbruin.com Forum and feel free to discuss this review.

Page 1 | Home | Forum | Content Index

Page Views: 5215