Thermaltake Schooner Fanless VGA Cooler - Page 1 of 7
Thermaltake is one of the most recognizable names in computer accessories and cooling devices thanks to their continual development efforts. Not much time seems to go by before they release a new batch of products intended to offer optimum performance for today's systems. They have the whole spectrum of users in mind, from the high speed overclocker, the typical desktop user, as well as the HTPC enthusiast looking for silence.

The product up for review falls into the silent category, and offers a new approach to passively cooling a graphics card. The Thermaltake Schooner Fanless VGA Cooler provided by Xoxide is pictured below, and has an unmistakable appearance. What has become somewhat of a standard for fanless VGA cooler designs is supplemented with a heatpipe extending to a radiator that extends out of the neighboring PCI slot into the open air.


In the traditional sense of the word, a schooner is a smaller sailing ship, typically with a fore and aft mast, with the aft mast sporting the large of the two sails. With a bit of imagination, we can picture what Thermaltake has done with this VGA cooler and make the connection with the nomenclature. Taking a look at the Schooner VGA Cooler, the radiator that extends beyond the end of the card would be the aft sail, providing smooth sailing into the sea of silent cooling (ooh, that was cheesy, sorry).

Features:

• Internal Heatpipe Module brings heat from GPU directly
• High performance fanless GPU cooler, 0dB cooling solution, reduce total system noise
• No cooling fan is required, stay cool without suffering the fan noise
• Much better heat dissipation is delivered by larger heat sink surface
• Internal and external heatpipe modules dissipate the heat efficiently
• Universal clip for both nVIDIA and ATI

Technical Specifications:

• P/N: CL-G0009
• Compatibility: Both nVIDIA / ATI video cards for AGP or PCI Express
• Heatsink Material: Aluminum
• Heat Dissipation Surface Area:
&nbsp&nbsp&nbsp• Main front heatsink: 1159cm
&nbsp&nbsp&nbsp• Main back heatsink: 446cm
&nbsp&nbsp&nbsp• External heatpipe module: 516cm
• Heatpipe:
&nbsp&nbsp&nbsp• Internal: 5mm x 2 and copper base
&nbsp&nbsp&nbsp• External: 5mm x 2 and copper fins
• Weight: 514g

As you can see, there is no specific list of compatible cards, and it appears that Thermaltake believes this to be a fairly universal cooler. With so many other brands of coolers being designed for a select few compatible cards, it seems hard to believe that one cooler could fit every card, but I hope it is possible. Testing will be conducted on a Gigabyte X600XT PCIe graphics card which is on the incompatible list of coolers from Arctic Cooling and Zalman, among others.

Packaging:

The Schooner was shipped from Xoxide well protected, and is sold in the plastic bubble type packaging shown below. You get a good look at the product, as well as many of its published features and specifications. This isn't one of those plastic packages where you need the jaws of life to cut into it with no chance of ever sealing the package up again. It may seem trivial, but I appreciate packaging you can close again.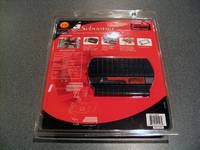 Please read on to the next page for more... Next

Page 1 | Page 2 | Page 3 | Page 4 | Page 5 | Page 6 | Page 7 | Home

Forum | Content Index | Image Hosting

Page Views: 6650