Thermaltake Muse USB 3.5" Hard Drive Enclosure - Page 1 of 4
"Thermaltake Incorporation, based in Taipei, Taiwan is the global leader of Thermal Solution and Thermal Management for PC & Industrial Market. Its Engineering Staffs masters in Airflow Analysis, Material Conductivity and Heat Dissipation Efficiency. Thermaltake offers a wide range of products and services, providing effective and cost-conscious cooling devices. The Company has more than 1,000 employees worldwide supporting customers from its headquarters in Taipei, Taiwan, as well as from offices in China, Europe and United States Continent." (Quote taken from the Thermaltake website).

Thermaltake has been in business since 1999, and since this time they have become a leader in cooling products and computer peripherals. One of their newer products is the fanless Muse portable hard drive enclosure lineup, which has models available to suit 2.5", 3.5" and 5.25" drives. Today we will be taking a look at the Muse USB 3.5" hard drive version of the Muse, model number A2292.


Specifications (taken from the Thermaltake website):

• All aluminum fanless design
• Silver body with graceful curve
• Screw less design easy to install 3.5 HDD without tools
• Deliver Meter with blue backlight to indicate digital signal.
• ypress AT2+ chip - speed & protect your digital data
• IDE to USB2.0 interface - the most compatibility
• Compact: mount easily to stand.
• Transfer speed up to 480Mbps

• Model: A2292
• Case Type: 3.5" HDD
• Weight: 745g
• Dimension: 219x125x40.5mm (H*W*D)
• Material: Aluminum
• Interface: IDE to USB2.0
• ATA compatibility: ATA6
• PCBA Chip: Cypress AT2+
• Transfer Rate: USB2.0: 480Mbps
• Operating System: Windows SE, ME, 2000, and XP, Mac OS 9.x up
• Drive Bay Kits: USB2.0 external cable, Metal foot stand, Power adapter

Packaging:

The Muse 3.5 arrived in a white card board package with no visible damage from shipping. The usual specifications and pictures were printed on the outside. The first image shows the front of the package. The image on the right shows either end of the box with the printed specifications and features.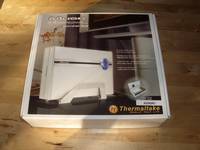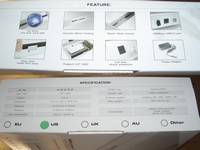 The next image shows the tightly packaged contents of the outer box.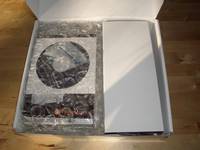 Please read on to the next page for more... Next




Page 1 | Page 2 | Page 3 | Page 4 | Home

Forum | Content Index | Image Hosting

Page Views: 4907