Transcend T-Sonic 610 512MB MP3 Player - Page 1 of 5

With so much attention given to Apple's iPod series, it's easy to overlook MP3 player alternatives. Transcend has been around since 1988, manufacturing many items for today's digital world. Some of these items include: memory (desktop, Laptop, printer, and Flash), USB flash drives, external portable hard drives, MP3 players, and even digital photo viewers. Today I will be looking at the Transcend's T-Sonic 610, a 512MB MP3 player. This tiny player has a sharp appearance that includes a vibrant 2 color OLED LCD...


Background Information (taken from the Transcend USA website):

"Transcend Information. Inc. was founded in 1988 by Mr. Peter Shu and has its headquarters in Taipei, Taiwan. Our extensive product portfolio has grown to include over 2,000 memory modules of every type, flash memory cards, USB pen drives, portable HDDs, multimedia products, graphics cards and accessories." They also go on to say, "Transcend has always been a customer driven company, we focus our efforts on providing the highest quality products with attentive after sales service and support, that ensures total customer satisfaction."

"Transcend introduces its new generation of MP3 players: the T-Sonic 610™ and T-Sonic 612™. This new MP3 player features a streamlined design, vibrant colors, and a self-luminous OLED LCD display with 4-way joy-pad. The T-Sonic™ MP3 player supports Hi-Speed USB2.0 connectivity with super-fast read/write speeds of 3.2/2.8MB/sec. Measuring just 70x34.5x15.5mm, the T-Sonic™ is about the same size as a pack of Tic-Tacs! Available in 512MB and 1GB capacity models. "

Features:

• FM Stereo function
• MP3 Player supporting MP3, WMA, and WAV formats
• Digital Voice Recorder
• Li-ion polymer rechargeable battery (Up to 14 hours of operation).
• Powered directly via the USB port for data transfers.
• AB Repeat allows continuous replay of partial or full track.
• Preset 20 FM channels allows recording from radio to a WAV file (610 model only).
• Auto power-off after 5 or 10 minutes of idle time.
• Self-luminous OLED display provides vibrant clear display & vivid colors. Easily viewed from any angle.
• Auto screen-saver conserves power when idle.

Specification:

• Size: 70mm x 34.5mm x 15.5mm
• Weight: 28g (with battery)
• Display: 1" (128x64 pixels) 2 colors OLED
• Support Format: MP3 and WMA
• Record Format: ADPCM (WAV)
• Compress Rate: 32Kbps~320Kbps
• Transfer Rate: Read 3.2 MB/sec. Write 2.8 MB/sec.

First Looks:

As with many items, the Transcend T-Sonic 610 512mb MP3 player is packaged in a heavy-duty retail box. The box is certainly colorful, and provides you ample information. On the back of the box you are provided with plenty of technical information including; the playback formats, box contents, and other specifications. The features information is not only provided in English, but is also provided in several other languages.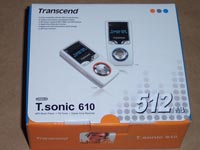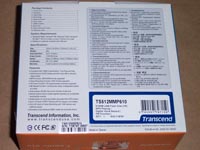 Opening the box, you get your first view of the tiny player. There is a little piece of plastic covering the OLED screen; this ensures nothing scratches the screen during shipment.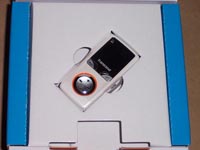 Please read on to the next page for more... Next




Page 1 | Page 2 | Page 3 | Page 4 | Page 5 | Home | Forum | Review Index

Page Views: 13529