Thermalright SI-120 CPU Cooler - Page 1 of 6
Thermalright has been one of the premier names in high end air-cooling solutions since the company was launched. With products to cool all modern AMD and Intel processors, as well as motherboard chipsets and graphics processors, they have something to cool the three main heat generators in just about any system.

Crazy PC is an online outlet specializing in performance computing accessories, who has sent over one of Thermalright's latest products, the SI-120. The SI-120 is a massive heatpipe cooler designed to cool Socket 478/754/939/940 processors using a 120mm fan of your choice.


The Thermalright SI-120 has an aluminum base and fins, and uses a total of 5 heatpipes to draw heat away from the CPU to be dissipated by the large radiator and 120mm fan. Heatpipes are pretty much the norm for performance air cooling these days, so let's see what the experts (Thermalright) can do with the technology.

Before getting into the performance of the unit provided by Crazy PC, let's take a look at some of the published data taken from the Thermalright website...

Features:

• New design avoids motherboard MOFSETs or Northbridge chipset
• Multiple heatpipes efficiently conduct heat to cooling fins
• Massive cooling fins with a large surface area for optimal heat dissipation
• Accepts 120mm Cooling Fans (Fan not included. See above options)
• Designed for high performance cooling systems
• Light weight design reduces overall weight and risk of motherboard damage
• Works well with fan positioned to blow or vent from heatsink
• Supports Intel P4 Socket 478, AMD Athlon 64/K8 Socket 930/940 processors
• Comes with thermal grease

Technical Specifications:

• Fan: DEFAULT - NO FAN
• Compatibility: AMD Athlon 64 Socket 754/939/940 processors, Intel P4 Socket 478
• Heatsink Dimensions: L140 x W120 x H88 (mm) Fin only, without fan
• Material: Aluminum
• Weight: 270g

In case you missed both mentions in the information above, the Thermalright SI-120 does not include a cooling fan. This is standard with all Thermalright processor coolers, and although it means you need to purchase one more item, it allows you to select exactly the right fan to suit you needs and tastes.

Packaging:

Thermalright products are easy to identify by the fairly drab cardboard boxes they all ship in. The Thermalright SI-120 arrived from Crazy PC in plain outer box, and inside we see the even less interesting Thermalright box. All you get is the Thermalright name/logo on the top, and a sticker on the side indicating the exact model supplied. Definitely not retail friendly.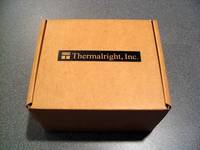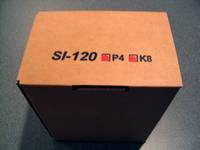 Inside the box, the cooler and all accessories are well packed in custom cut foam that holds everything in place perfectly.

Please read on to the next page for more... Next

Page 1 | Page 2 | Page 3 | Page 4 | Page 5 | Page 6 | Home

Forum | Content Index | Image Hosting

Page Views: 11153