SE-VOIP USB Skype Phones - Page 1 of 6

VoIP, or Voice over Internet Protocol, is gaining momentum as a number of factors make it preferable over a standard landline telephone. More people have broadband internet, the call quality can rival or exceed landline service, and the pricing from the major VoIP providers is much better than what the local phone company can offer. On top of that, many people are just fed up with the way the local phone company treats them and they want a change. VoIP offers all of that. But what could make it even more attractive? How about FREE VoIP?

Skype is a VoIP service that takes it to that next level of desirability by making PC to PC VoIP calls between members anywhere in the world absolutely free, as well as offering the ability to send/receive calls with standard telephones. Although Skype requires no additional hardware beyond an Internet connected PC sporting a sound card with speakers and a microphone, USB compatible Skype Phones are available to make the experience even more convenient.


Geeks.com carries a handful of USB VoIP phones for use with the Skype service, and they have sent over a pair of phones from Skype-Phone.net for consideration in this review. As pictured in the image above, we have a mobile phone inspired model (the SE-P1K), as well as a desktop inspired model (the SE-P3K). Let's take an in depth look at both phones, starting with the SE-P1K.

SE-P1K USB Skype Phone:

The SE-P1K USB Skype Phone is the more portable of the two being reviewed. Fashioned perhaps after a previous generation of Nokia or Ericsson mobile phone, the styling is fairly attractive. Geeks.com generally carries this model for $29.99, but I have seen it go on sale for as low as $19.99. Not a large investment, but we'll see if it is even worth that much of your money.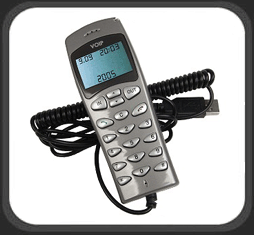 The promotional image above shows an overview of the phone, which sports a metallic grey body, and decent sized LCD display. Before taking a look at the actual phone, let's look at the following list of features and specifications taken from the Geeks.com website.

SE-P1K Features and Specifications:

• VoIP USB IP Internet Phone
• Gray color
• USB 1.1 compatible
• PC to PC and PC to phone operation
• Caller ID Function of VoIP calls
• Full duplex communication
• 199 incoming calls
• 199 dialed number feature
• LCD and LED display
• Key-in tone function
• H.323/MGCP/SIP protocol compliant
• Echo cancellation and noise reduction
• Easy to use just like a mobile phone
• No external power required
• 5-foot built-in USB cable (approximate)

You can see the basic features, most interesting being that it is only USB 1.1 compatible. I was concerned about sound quality given the limited throughput as compared to USB 2.0, but testing will show whether it really matters. Additionally, we see it gets all of its power via USB, and supports many common phone features we would expect on a typical phone.

Please read on to the next page for more... Next

Page 1 | Page 2 | Page 3 | Page 4 | Page 5 | Page 6 | Home | Forum | Review Index

Page Views: 5594