Sunbeamtech X-1300 Sensor-X Gaming Mouse - Page 1 of 2

For many years, there was only one style of mouse, the infamous ball mouse. While these worked, this style of mouse had a tendency to get dirty and wasn't always very responsive. Next came optical mice, and while costing a little more than a ball mouse, it provided a vast improvement over the ball mouse.


Sunbeamtech has been focusing on development of high quality, low cost computer components since 2000. They have been expanding their focus into the computer peripherals area. Examples include: cases, keyboards, mice and other case mod components. Sunbeamtech has sent over one of their new mice, the X-1300 Gaming Mouse. This is offered in two models; the X-Sharp MS-777, and the Sensor-X MS-888. I will be looking at the Sensor-X version to see how well it compares to other optical mice, such as the generic MS OEM optical mouse, MS Intellimouse, MS Wireless Intellimouse, and Logitech's MX-1000 laser mouse.

Specifications (taken from the Sunbeamtech website):

• 1300 <-> 650 switchable dpi.
• 300% more precise than 400 dpi optical mice.
• Super bright LED and low heat output.
• Sleek ergonomic design.
• Non-slip side rolls with special light effect.
• Super large non-slip button.
• Super wide mouse wheel.
• Plated max-conductive USB connectors.

Sensor-X Appearance:

The Sensor-X is packaged in a sturdy cardboard box, with a plastic cover over the mouse itself. The package is more than sufficient for shipping, and will not cause any damage to the unit or other included items. You can tell this mouse is packaged for a retail setting, as the box provides ample information on the mouse, and its advantages.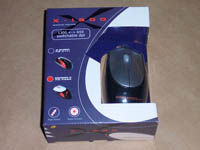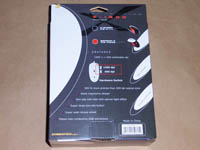 On the top of the Sensor-X you can see the oversized left and right buttons, as well as the scroll wheel. The buttons are nicely designed so your finger rests in it, with a little raised edge so they don't slip off during a fast fragging session.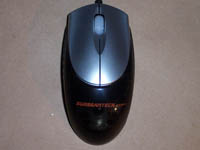 On the bottom, there really isn't anything to see. The required optical sensor, and three Teflon mouse pads that help ensure the mouse glides smoothly. The only unusual item on the bottom of the Sensor-X is a switch that allows you to switch this mouse from 650dpi to 1300dpi. The difference in dpi means you don't have to choose a mouse based on the speed or precision you require for certain applications. You can now have one mouse and easily switch modes depending on your individual needs. This would probably be the only place I would change anything on the mouse; slightly larger Teflon pads or perhaps adding an additional one would be beneficial.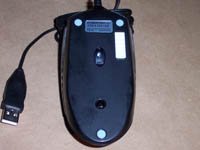 From the side view you can see the little raised edge on the mouse buttons. You can also see the rubber trim on the mouse which gives you a non-slip grip point. This also gives the mouse a little flair once it's in use and the internal LEDs light up.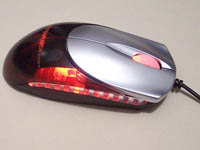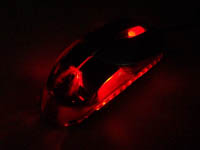 The final consideration is whether it will fit your hand well. If a mouse is too small, your hand could cramp up at a vital time. If a mouse is too big, you will have to put some extra effort to move it around. As you can see here, the Sensor-X is average size, with some very large buttons. The oversize buttons are nice, as any size of hand can use the mouse with ease.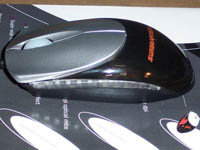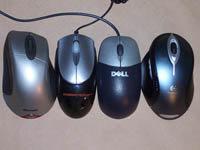 Please read on to the next page for more... Next

Page 1 | Page 2 | Home | Forum | Content Index

Page Views: 19268