Maxtor DiamondMax 10 300GB SATA Hard Drive - Page 1 of 6

Hard drives are one of the most critical components of a computer system, but in recent years they seemed to be one of the key items holding back system performance. High performance SCSI drives were too expensive for mainstream use, and the typical ATA drives didn't seem to be advancing at the same rate as things like processors, memory, or graphics cards. With the introduction of SATA (and now SATA-II) the speed issue is being addressed, and manufacturers are doing other things to increase drive performance and reliability. Maxtor is one of the most recognizable names in hard drives, and they are right at the forefront of the advancement of hard drives with their latest offerings.

We've recently taken a look at a few different SATA hard drives, and are fortunate enough to have another to add to the benchmark comparison list. Maxtor has sent over the 300GB DiamondMax 10 SATA hard drive, which we will compare to the recently reviewed 200GB Seagate 7200.8 Barracuda and the 500GB Hitachi 7K500, among others.


Before diving into the performance of this drive, let's look at some published data. This particular drive sports a capacity of 300GB, a rotational speed of 7200RPM, an impressive 16MB of cache memory, support for Native Command Queuing, and a SATA-150 interface. Definitely some impressive features, and the only one that doesn't jump out as being the latest and greatest is that the interface is SATA-150 and not SATA-300 (or SATA-II). Given the limited support for this higher speed at the present time, the use of SATA-150 may not be a big deal, but the future is definitely focused on SATA-300.

The following features and specifications apply to the whole line of DiamondMax 10 drives, and not just the 300GB SATA unit on hand for review.

Features (from the Maxtor website):

• Serial ATA/150 and Ultra ATA/133 interfaces
• Native command queuing for enhanced efficiency
• Quiet Drive Technology for acoustics-sensitive applications
• Whisper-quiet fluid dynamic bearing motors
• Maxtor Shock Protection and Data Protection Systems for greater reliability
• RoHS compliant version available

Specifications (from the Maxtor website):

• Formatted capacity: 80, 120 160, 200, 250 and 300GB
• Average seek time: <9.0
• Rotational speed: 7200 RPM
• 8MB cache buffer on 80GB to 200GB and 16MB cache buffers on 200GB to 300GB
• Parallel or Serial ATA interface:
&nbsp&nbsp&nbsp• ATA/133
&nbsp&nbsp&nbsp• SATA/150 Interface with Native Command Queuing
• Fluid Dynamic Bearings
• Maxtor Shock Protection System
• Maxtor Data Protection System
• RoHS compliant version available

From the information provided above we can see that the 300GB unit provided is the top of the DiamondMax 10 line, offering the largest capacity and fastest interface. In addition, the 16MB of cache memory should provide a nice performance boost, as it is the most you will find at this point.

The Basics:

Although the packaging of this drive has no bearing on what one might expect to receive from a retail outlet, I've included two pictures. The outer carboard box contained an inner carboard box that was free to bounce around a little. But, the egg crate foam lining that surrounded the drive should provide adequate protection from the roughest of delivery men.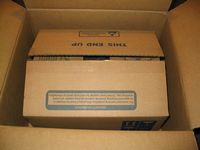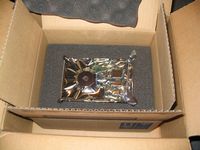 Please read on to the next page for more... Next




Page 1 | Page 2 | Page 3 | Page 4 | Page 5 | Page 6 | Home | Forum | Review Index

Page Views: 7129