Arrowmax PSX-550AL-24 Aluminum 550W Power Supply - Page 1 of 6

Power supplies seem to be the hot field to get into. All of the well established names in the PSU market are seeing competition spring up from other peripheral companies looking to expand their line up, as well as new companies with their own twists on a fairly standard item. In reality there are really only a handful of power supply manufacturers, and all of these different brand names are simply rebranding, and perhaps modifying these base offerings to suit their needs.

Along these lines, we have a power supply for review from a lesser known name, ArrowMax, an e-tailer based in California that specializes almost exclusively in Maxtop brand cases and components. Bigbruin.com was actually first introduced to ArrowMax by reviewing a Maxtop case, and now we have the ArrowMax PSX-550AL-24 Aluminum 550W power supply.


The ArrowMax PSX-550AL-24 is pictured in the promotional image above, and as you can see it isn't the flashiest unit you will ever come across. The styling is simple, and combined with the published features and specifications it is clear that this is a no nonsense device that isn't looking to jump on the acrylic window, LED lighting bandwagon of "gaming" novelty items.

With that, let's look at the features and specifications, as taken from the ArrowMax website and the product packaging.

Features and Specifications:

• Excellent Compatibility: Compliance with Intel P4 & AMD Athlon XP
• Standard PSII type: Dimensions: 150 x 140 x 86mm
• Super Silent with Automatic Fan Speed Control: This Power Supply can adjust its fan speed automatically in response to system loading and internal temperatures.
• Comprehensive Protection Features: Including overheating protection, high/low voltage protevtion, current surge protection and short circuit protection
• Active PFC: Active power factor correction circuitry to ensure extremely high PF of 98% or better
• Serial-ATA Solution: Extra connector for S-ATA HDD Interface
• Output Power: 550W
• Frequency: 47-63Hz
• AC Input: 115/230 VAC
• DC Output:
&nbsp&nbsp&nbsp• +3.3V: 36A
&nbsp&nbsp&nbsp• +5V : 36A
&nbsp&nbsp&nbsp• +12V: 30A
&nbsp&nbsp&nbsp• -5V : 0.8A
&nbsp&nbsp&nbsp• -12V : 0.8A
&nbsp&nbsp&nbsp• +5Vsb : 2.5A

From the list above we can see that this unit sports a single 12V rail, which is becoming less common with some of the higher end units running two 12V rails. That said, the 12V rail, as well as the 3.3V and 5V rail are all fairly beefy... at least on paper.

Another nice feature listed above is the inclusion of (active) PFC, which really should be a requirement in this day and age. The extra cost to get a power supply that may be 30% more efficient than a standard model is insignificant up front and in the long run. If you have a computer on for a good part of the day, you will see a difference in your monthly electric bill!

The Basics:

The ArrowMax PSX-550AL-24 is sold in the fairly descriptive packaging shown below. You get a good pictorial view of the product, as well as a look at the various connectors and the curve for the thermally controlled fans. One side of the box not shown details the various models available (with different power ratings), meaning the 550W version isn't your only choice.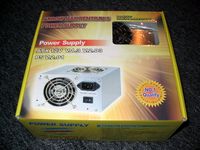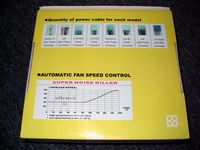 Packed inside the box you have the PSU wrapped in plastic, a brief manual, some mounting screws, the electrical cable, and a 24-pin to 20-pin adaptor. The PSX-550AL-24 has a 24-pin motherboard connector built in, making it ready for use with the latest high end motherboards, as well as many server boards produced over the years.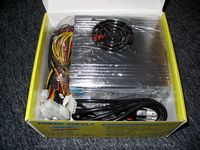 Please read on to the next page for more... Next

Page 1 | Page 2 | Page 3 | Page 4 | Page 5 | Page 6 | Home | Forum | Content Index

Page Views: 3328