CenDyne 4x DVD±RW External Drive (USB 2.0/Firewire) - Page 1 of 3

DVD Burners are becoming an increasingly popular upgrade item as falling prices make them far more reasonable for the typical consumer. The Cendyne 4x DVD±RW Dual DVD/CDRW Ext USB 2.0/Firewire Drive provided for this review by Computer Geeks takes advantage of this trend, as well as the increasing popularity of external storage devices, and rolls them into one convenient and economical device.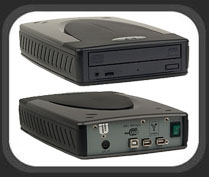 Cendyne is a familiar name in optical drives who made their home in Santa Ana, California. Visiting their website won't provide too much more information on them, as they were acquired by Genica Corporation in December 2003, and the site now just provides continued support information for Cendyne products and a press release that explains the acquisition in greater detail.

According to their website, Computer Geeks has been around for over 9 years, and they have been one of my preferred online retailers since I stumbled upon them about 5 years ago. They carry a unique inventory in their Oceanside California facility, which they describe as "providing computer-related excess inventory, manufacturer-closeouts, high-demand and unusual computer components and peripherals at highly-discounted prices to tech-savvy, "Geeky" consumers". With that said, inventory doesn't always stay on their virtual shelves for too long, and its interesting to go browse the "New Arrivals" section on occasion, just to see what's out there.

The Cendyne 4x DVD±RW Dual DVD/CDRW Ext USB 2.0/Firewire Drive itself is pictured in the two images below. The housing is a sleek combination of black and silver plastic, with a reflective Cendyne logo sticker on top. Unlike other external drive enclosures I have used, there is nothing flimsy about this one! Cendyne has constructed a high quality, heavy duty box to house their DVD burner, which looks good and provides a little extra comfort that this thing won't get beat during regular operation or while traveling in a briefcase / backpack.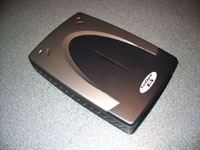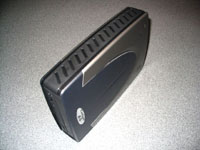 Taking a look at the front of the drive (below left image) reveals a color matched DVD±RW tucked into the enclosure featuring a headphone jack, volume control dial, LED activity indicator, eject/load button, and an emergency eject hole. Also visible in the below left image are four rubber feet which support the device and help reduce noise/vibration.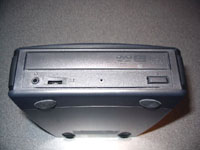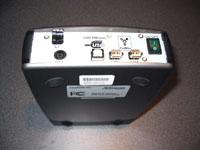 The rear of the drive is shown in the above right image, and features; one USB 2.0 port, two Firewire ports, DC power input, and an illuminated on/off rocker switch.

For those interested, the Cendyne 4x DVD±RW Dual DVD/CDRW Ext USB 2.0/Firewire Drive ships from Computer Geeks in the descriptive retail style packaging pictured below. All of the basic features and specifications are listed, and the internal packing materials are more than adequate to ensure that your drive is delivered safely to your door.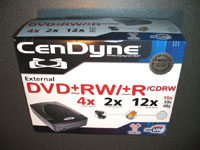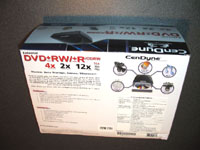 In addition to the drive itself, the items pictured below are also included in the kit. The below left image shows the Installation Guide, a blank DVD±RW disc, a Sonic MyDVD Video Suite disc, and a Pinnacle Studio Version 8SE disc. The below right image shows the included USB 2.0 cable, Firewire cable, and two piece AC power adapter.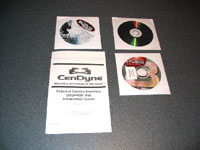 The kit ensures that you are able to get up and running right out of the box by including all the necessary cables and a couple software titles to try out. The Sonic suite provides applications for burning basic DVDs and CDs, as well as things such as creating video DVDs and VCDs, creating system backups, and playing DVD video through their 'CinePlayer'. The Pinnacle Studio software is a popular video editing package, to help you give your home movies that professional look.

Please read on to the next page for more... Next

Page 1 | Page 2 | Page 3 | Home | Forum | Review Index | Page Views: