Posted: September 01, 2003
Author: Jason Kohrs
Manufacturer: Panasonic
Source: Logic Supply

With Small Form Factor (SFF) computer systems being released in housings small enough to misplace or mistake for an external drive enclosure, the components required for use inside these systems must obviously shrink, too. One fairly simple solution for providing compact drives to a mini system is to borrow from the notebook computer industry. Some SFF case manufacturers are relying on the use of notebook components to help reduce size, and the Morex Cubid 3688 Mini-ITX case recently reviewed at BigBruin.Com is a perfect example of this.
The Panasonic CW-8122-B Slimline Combo Drive is one of these notebook style drives that may be very appealing to owners of SFF systems looking to fit as many features into the smallest space possible. The CW-8122-B incorporates both a 24x10x24 CDRW drive and a 8X DVD-ROM drive into a device that is about a quarter the height of just one standard IDE optical drive (a mere 12.7 mm tall).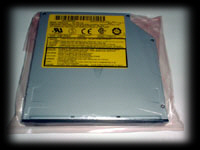 The Panasonic CW-8122-B was provided for review by Logic Supply, an online retailer specializing in Mini-ITX systems and components, as pictured on the left. This drive is intended to be installed into notebook computers by OEMs, and therefore is sold as a bare drive, simply packed in an electro-static bag (and well padded in a cardboard box by Logic Supply). The unit does not include any software/drivers, documentation, or mounting hardware.
The drive itself is pictured in the two images above... The top being shown on the left, and the bottom being shown on the right. The simple black face of the CW-8122-B features a yellow activity indicator light, and a small button to eject a disk from the slot. Being a slot load device, there is no drive tray, which is a major plus to me in a SFF device. You don't have to worry about a tray being damaged, and the floor space required for the system is reduced by not having to allow for a fully extended tray. To be honest, the apearance of optical drives isn't what sets different models apart, and you might be hard pressed to distinguish one from another by just looking at them. What is of interest to users is obviously on the inside... the features and the performance!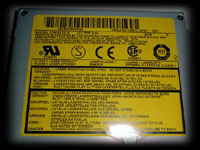 For those interested, a close-up of the drive's label is shown above, which is the only piece of documentation you will receive with the unit. Documentation is available though, and the following features and specifications were all taken from the Logic Supply website:
Features:
424X Speed CD-R Writing
410X Speed CD-RW Writing
424X Speed CD-ROM Reading
48X Speed DVD-ROM Reading
4IDE/ATAPI Interface
412.7mm Height
4Buffer Under Run Protection
4DVD MULTI Read Support

Specifications:
4Data Capacity 703Mbytes(Mode 1)
4Interface IDE/ATAPI
4Buffer Memory 2MBytes
4Power Requirements Voltage DC+5V5%
4Mounting Orientation Horizontal or Vertical
4Dimensions 128.0(W)12.7(H)129.0(D)mm

Writing Method:
4Disc at Once, Session at Once
4Track at Once, Multi-Session
4Fixed / Variable Packet Writing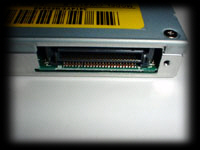 Before you begin the installation, there is one component you will most likely need for use on a standard 40-pin IDE channel, which is not included. Unless your case comes with a Slimline CD to IDE adaptor (the Morex Cubid 3688 happens to), be sure you pick one up. As mentioned, the CW-8122-B is intended for use with a notebook computer, and this device will convert the pins on the drive (as pictured on the right) to accept an IDE ribbon and power connection for use with a Mini-ITX motherboard.
With the electrical portion of the installation addressed with the adapter mentioned above, the rest of the installation is fairly simple. The drive casing has 4 small holes to accept mounting screws (not included), that will hold it securely in your case. A case such as the Morex Cubid 3688 has a drive tray specifically designed to accept this type of notebook drive, and installation is completed in just a few minutes.
The two images below provide a look at the CW-8122-B installed in the Morex Cubid 3688 case, ready to be taken for a test drive…
In order to test the performance of the CW-8122-B, I decided to use it in some real world situations, as well as putting it through an obligatory benchmark. The first thing I did with the drive was to pop up the properties as indicated by Windows XP Professional (pictured below).

CDRW Applications:
The 24x10x24 CDRW portion of the device was analyzed with a few of my common CD authoring applications. The list below indicates the three programs I tried on the CW-8122-B, and the results achieved...
4Windows XP CD Writing Wizard - PASS
4Ahead Nero Burning ROM Version 5.5.10.50 - FAIL
4Clone CD Version 4.2.02 - PASS
CD creation with both the Windows XP CD Writing Wizard and Clone CD Version 4.2.02 went perfectly. CDs were created error free, and I actually had to look down at the activity light to see if it was doing anything. I am accustomed to being able to hear that my CDRW is "burning", but could not with this drive. The silence is very much appreciated! CD Creation with Ahead Nero Burning ROM Version 5.5.10.50 failed, but not due to any fault of the drive or the application, but simply because the software is intended for use with the drive it shipped with only. Regardless, I could not verify the performance of the CW-8122-B with Nero Burning ROM.
DVD Applications:
The 8x DVD-ROM portion of the combo drive was put to the test next, by playing a few DVD movies using the applications listed below. Movie playback was flawless, and I was able to advance the films without a significant disruption in picture or sound.
4PowerDVD Pro EX - PASS
4InterActual Player Version 2.04 - PASS
Benchmarking:
Finally, what hardware review would be complete without at least one benchmark? I ran the "CD-ROM/DVD Benchmark" found in SiSoft Sandra Max3! The results can be seen below, and show the performance of the CW-8122-B to be quite favorable. It would be listed as a DVD 8x, CD 24x in the SiSoft format, and the results put it ahead of other 24X CDs in terms of access time.
4SiSoft Sandra CD-ROM/DVD Benchmark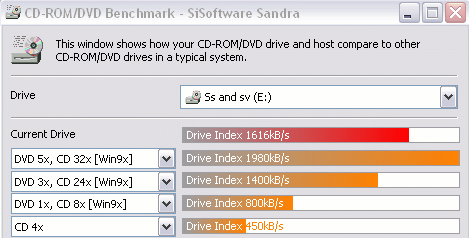 Combo drives are virtually a must have for people looking to make the most of the space they have available in their SFF systems. Being able to put the same features of two full size IDE devices into one slimline drive saves precious space, and the CW-8122-B offers big performance in a tiny package.
The CW-8122-B is available from Logic Supply for $149.95 (US). Definitely not a cheap item, but for those who have shopped around, they know that slimline drives are going to set you back a bit more money than a comparable, full size IDE device. Taking a look around the web will also show that the Logic Supply price on a CDRW-DVD combo drive at this speed is quite attractive. Price Grabber doesn't give you many choices, and the prices for slower drives are considerably higher.
For those serious about cramming as much performance into their small form factor system, the Panasonic CW-8122-B Slimline Combo Drive is a near must have. I say it's a near must have because there is another Panasonic product at Logic Supply that takes the term "combo drive" to a whole new level... The Panasonic UJ-815-B is a combo drive featuring 2X Speed DVD-RAM Writing, 1X Speed DVD-R Writing, 1X Speed DVD-RW Writing, 16X Speed CD-R Writing, 8X Speed CD-RW Writing, 24X Speed CD-ROM Reading, and 8X Speed DVD-ROM Reading!
Pros:
4Excellent device for use in ultra compact Mini-ITX cases, such as the Morex Cubid 3688
4Quiet operation, especially during cd burning
4Performs as well, or perhaps better than (according to benchmarks), full size device
4Slot load design reduces risk of damage to sliding tray, and reduces footprint required
Cons:
4OEM drive ships bare: no software, documentation, or hardware included
Special thanks to Logic Supply for supplying the Panasonic CW-8122-B Slimline Combo Drive to BigBruin.Com for review!
Please drop by the BigBruin.Com Forum and feel free to discuss this review.