Posted: November 06, 2003
Author: Brian Anderson
Manufacturer: Logitech
Source: Logitech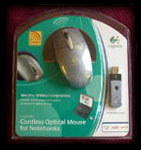 Logitech is a well known name in computer input devices, and according to their website they are a company that "designs, manufactures and markets personal interface products that enable people to effectively work, play, and communicate in the digital world." They recently achieved a major milestone by selling their 500 millionth mouse, which according to their site is enough mice to circle the Earth 1.6 times! One of the models in this long line of mouse products is the item being reviewed today... the Cordless Optical Mouse for Notebooks.
My first impressions of this mouse to be honest was, why? Cordless and laptop? Well after playing with it, my mind honestly didn't change. Now, don't misinterpret this as any negative comment towards Logitech, it has always been my opinion that they make the highest quality mice on the market, and this product didn't let me down there! It once again shows their attention to detail and quality.
Let's take a look at some picture of the mouse: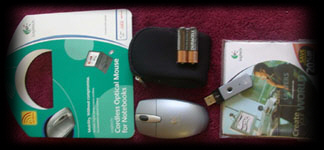 The package comes complete with the mouse, USB dongle, AA batteries, a carrying case, simple instructions and a driver CD.
The mouse is a little smaller than a standard mouse (see below left image), but because of the batteries it is a bit heavier. The mouse feels very well built, as I would expect from any Logitech product. Pictured in the below right image, the dongle is just over 3" long and about 1" wide.
Features (as taken from the Logitech website):
4Compact size is easy to toss into a briefcase but comfortable enough to use as your regular mouse
in either hand
4The small, sleek USB receiver plugs easily into your notebook
4Fast RF cordless technology delivers the responsiveness and accuracy of a corded device... but
without the clutter
4Advanced optical sensor provides smooth, trouble-free operation... no mousepad required
4Carrying case makes it easy to pack up and take anywhere
4On/off switch maximizes battery life
4Comes with four pre-programmed buttons, or customize them yourself with Logitech MouseWare®
software
4Five-year limited hardware warranty
Installation:
System: IBM T30 ThinkPad
OS: Windows 2000 Pro SP2
Installation is very simple. 1) Just put the batteries in, 2) plug the dongle into the USB port, 3) turn the mouse on and press connect on the dongle and on the mouse. That's it!! No drivers are required and the mouse worked perfectly!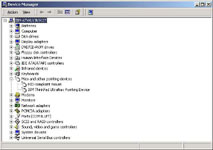 I did notice that Windows installed a new mouse device, HID-compliant mouse. No biggie, as I said it did not require me to either install a driver or to reboot when installing or removing the mouse. And at all times all 3 pointing devices worked (the touchpad, the "nub", and the Logitech).
Well, this was too simple! So I wanted see what this this is actually capable of doing. I inserted the dongle into a USB-to-PS/2 converter, stuck it in the back of my KVM, and... it worked perfectly!! As a matter of fact, I am currently using the mouse on this set up under XP Pro to write this review.
Conclusion:
What can I say? The mouse works perfectly and installation is as simple as you would hope. Using the mouse is comfortable, and it performs just as well as my corded optical mouse. The only complaint I have is that it doesn't operate as smoothly on a hard surface (such as a desk) as the corded mouse does, but put it on a mouse pad and it's great. While I don't believe a cordless mouse is really that useful on a notebook, others (including maybe you) might disagree with me. Although Logitech lists the retail price as $39.95 (US), a quick search on PriceGrabber shows the Logitech Cordless Optical Mouse for Notebooks available from several sources for under $31.00. So, if you want to go cordless on your notebook, don't hesitate to pick up one of these mice.
Pros:
4Small size makes it easy to fit in a notebook case.
4Comes complete with batteries and carrying case.
4Easy installation!!!
4Comfortable to use.
4Much easier to use and control than either touchpad or "nub" mice.
4Reasonable price for a cordless, optical mouse.
Cons:
4Retail price is about double that of a basic Logitech optical mouse.
4Doesn't operate smoothly on hard surfaces.
Special thanks to Logitech for providing the Cordless Optical Mouse for Notebooks for review!
Please drop by the BigBruin.Com Forum and feel free to discuss this review.
Forum | Review Index