Posted: January 12, 2004
Author: Dud3!
Manufacturer: N/A
Sponsor: Jab-Tech

Fan grills. They don't do anything overly exciting for your system, but do they have to be dull? Is there anything you can use besides those boring wire grills that everyone has a few pounds of? How about some laser cut, mirror finished, metal grills with a pattern to fit your individual taste?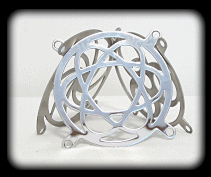 Jab-Tech sent us seven of their mirror finished, laser cut grills to review, models named; Radiation, Scream, Counter Strike, Alien, Biohazard, Turbine, and Atomic (as seen in the below left image). These grills are all intended for use on 80 mm fans and cost $4.95 each. Jab-Tech has different sizes and about 29 different styles to choose from with prices ranging from $1.99 to $13.99, at the time of writing. The grills are packaged in small, white cardboard boxes along with a bag of four fan screws (as seen in the below right image).
My first impression of these grills was that they were well made and nicely finished, not cheap, bendable things with chrome flaking off.
The above left image shows the typical finish of the mirrored side, and the above right image shows the 'brushed' finish of the back side.
The first thing I did was start to install them in my second system since it's in a Chieftec DX-01WD (made by ChenMing, same as Antec/Enermax/Raidmax/etc) which is a very common case in one form or another. The purple plastic fan holders are familiar to anyone with a case made by ChenMing, and therein lies the only problem with these grills. They won't work with the fan holders.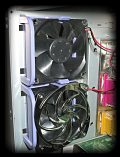 As you can see, any grill that overlaps the fan housing will not fit in one of these holders. I'm sure you could do some modifications to the grills or case if you really wanted to, but they won't work in stock form. Since this computer is the only one I have that has CCFLs, I temporarily taped a fan in place so you could see how cool the grills look with lighting.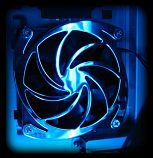 I didn't encounter anymore problems with the grills after that. They worked fine on side panel holes, with the wire clip retention used by Thermalright heatsinks, and the exhaust fans on a normal case. I couldn't install them in my main system on the processor heatsink and case fans because I have 92 mm and 120 mm fans, so you will have to do without interior pictures.
What you can see is the grills installed on the side panel of a cheap mid-tower case I have. Let's look at it without a grill, then with a standard wire grill.
Not having a grill on a case panel isn't very good, and the wire grill is just too plain. You can mount any of the grills on the outside (on top of panel) or inside between fan and panel, and I did both in the pictures here.
Besides improving the looks, fan grills are supposed to at least discourage poking your fingers in the fan. This may not be much of a concern for you (it's not for me), but some styles won't protect your fingers at all, while others do a good job of keeping misplaced fingers from the spinning blades.
Overall these grills are a great addition to any modded case and won't disappoint with their appearance and quality.

Pros:
• Looks great
• Nice chrome finish
• Great quality
Cons:
• Won't work with Chenming fan holders
Special thanks to Jab-Tech for providing their mirror finish, laser cut fan grills to Bigbruin.Com for review!
Please drop by the BigBruin.Com Forum and feel free to discuss this review.