Posted: February 08, 2004
Author: Spire
Manufacturer: Evercool
Source: Evercool

According to the Evercool website...
"Evercool is the top 5 cooling fan manufacture in Taiwan, we specialized in PC Thermal Solutions, especially in CPU cooling field, our main products including CPU Coolers, DC Fans, Heat Sinks, H.D.D. Coolers and System Blowers. Our products are world wide installed in many different applications, for example, in the field of PC-production, Industrial Computers, Telecommunications, etc."
As internal case temperatures rise due to more and more high tech CPU's, video cards, and hard drives, the need to add fans is making computers noisy. A solution to all the noise is to add a fan controller. Lowering the RPM of a bunch of case fans can do wonders for making an enjoyable, quieter time, while still getting adequate air flow.
One of the solutions on the market could have been Evercool's SCP-A Fan Speed Control Panel. I say could have been because the SCP-A not only doesn't perform its main function very well, but also (temporarily) damaged the fan headers of my motherboard. More on that later… First let's take a look at this controller.
Evercool packed this in a typical peg board bubble plastic container that doesn't require any special tools to get open. The writing on the back of the package claims an output voltage control of 3.75 to 11.337 volts and that it, "Fits Standard 5.25" Drive Bay". Although the spelling and grammar are better than most, there is an undefined chart with what I assume is voltage on the vertical axis. The rest of the chart is indecipherable. Also, pictures of the speed rings indicating colors to expect under different conditions.
Unpacking the controller, I found a dark navy blue controller, 4 male to male 3 pin fan cables, 4 male to female fan extension cables, and 4 screws. The SCP-A Fan controller is a bit different than most fan controllers on the market. Most fan controllers get their power from a 4 pin power supply Molex connector, supplying the fans and power for the controlling functions right from the power supply. The SCP-A's 3 channels are meant to be hooked up to the 3 pin fan headers on the motherboard. While this is convenient for monitoring fan RPMs, fan headers are limited in their ability to supply more than about 350mA or 4.2 watts per channel. This fact will come into play very soon…
Opening up the controller was simple enough, there are 4 clips, 2 on each side. When the controller is squeezed a bit, the gray back slides off giving us a look at the insides. There are an assortment of transistors, a couple of small capacitors and some multi colored LEDs with quarter sized reflectors on each. Not a lot of power type circuitry going on in here.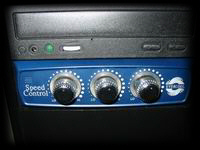 Installation was quite simple. The device fits very nicely into a 5 Ľ" open drive bay. The fit is kind of unique in that the front face isn't flat like an optical drive, but rather tapered. The holes in the side of the device have brass inserts, and the holes line up perfectly. After attaching the male to male connectors to the input sockets and the female to male extension cables to the output sockets, the device was ready to connect to the motherboard and case fans. The cables were plenty long enough with the controller to motherboard cables being slightly longer than the controller to fan cables. I hooked channel 1 to a front mounted intake fan and the next two channels to rear case exhaust 80mm fans.
Powering up the system, I got a chirp out of the controller and all the fans whirred to life. The ring indicators all showed blue. As a matter of fact, at all settings but max, they always showed blue. When the fans are turned to max, the indicators turn slightly more purple than blue. Unplugging one of the fans turns the ring even more purple, bordering on red, and gives a very loud annoying beep like an older microwave oven. This noise will definitely get some attention that a fan has failed in some way.
Now is where things go terribly wrong. After about 3 minutes of checking fan RPMs with Motherboard Monitor, turning knobs, getting comfortable with using this controller, it went blank, no lights, no noise, and most important, NO FANS!!! Fearing the worst, I turned off the machine and plugged the fans back in to the headers where they used to be… turned the machine back on and, NOTHING!!! All three fans refused to start. I tried a 3 pin to 4 pin adapter and all three fans worked perfect. This thing killed my MB fan headers, the board still boots normal, and the RPM monitoring function still works, just no power to fans. Being totally disgusted with the whole situation, I packed it in for the night.
When morning arrived, I decided to go ahead and try the machine again. This time the fans came to life, so it seemed the fan headers had fixed themselves. Excellent, no permanent damage, this is good. Wanting to understand what happened, I started to look at some power requirements. The fans I am using are SVC 80mm and have advertised current draw of 170mA or 2 watts each, the motherboard fan headers have a rating of 350mA or 4.2 watts each. I could not locate any numbers for the controller itself, as Evercool only has the same information on the website as they do on the back of the package.
Understanding all of this, I decided to go ahead and give it another shot. Hooking everything back up, I powered the machine up and sure enough, 3 minutes or so later, it died again. I haven't yet been able to get the fan headers to power the fans, I may have to wait till morning again to see if everything is ok.
Conclusion:
Avoid this product. It doesn't work. Even if it hadn't killed my fan headers, the lighting isn't as described, the fan controls from what I can tell don't adjust more than about 2000 rpm. And its not the upper range of the fan, its somewhere in the middle, from roughly 2000 to 4000 rpm. The dark navy blue color chosen doesn't match anything but a custom paint job. I believe the idea of a fan controller using the fan headers is just not good.
Until I see the fans in my system start turning again, I find it difficult to give the Evercool SCP-A Fan Speed Control Panel even 1 out of 5 stars.
Final Rating (0 out of 5 stars):
Pros:
• Mounts in case very well
• Includes nice cables that are plenty long
Cons:
• Doesn't work
• Colors don't change as described
• Color is just wrong for majority of cases
• Knobs look cheap
Please drop by the BigBruin.Com Forum and feel free to discuss this review.
Forum | Review Index