Posted: March 10, 2004
Author: Spire
Manufacturer: Evercool
Source: Evercool

Boasting "Special and only one golden fan blade and smart finger guard is good for looking", Evercool presents their CUF-715. The CUF-715 is only one of the many heatsinks that Evercool manufactures. It might just be their best, claiming to cool all the way up to XP 3400+ CPU's and then some. I was able to locate this heatsink at only a few places on the web and all had it for right at $20.00, putting it in the mid-budget range.
First Impressions:
The Evercool CUF-715 is a very nice looking Socket A Heatsink. It comes well packed in a reusable pegboard bubble type container and includes a 1.5 gram syringe of Evercool EC350-TU15 thermal compound. The first impressions of this sink lead me to believe it should perform quite well; it has 40 individually soldered copper fins on a 3/16" copper plate. Construction appears very good, and there is a lot of surface area to help dissipate heat. The style is similar to the Thermalright SLK series of sinks, although the base is thinner and of course overall size is more traditional.
The base of the Evercool CUF-715 comes protected with a warning sticker. The sticker is noticeable enough to prevent installing without removal first. A mistake that could fry the chip we are trying to protect. Another interesting thing about the CUF-715 is the ability to mount it both directions. There is a socket relief on both sides of the base, allowing clearance to install with the clip facing either direction. This could mean the difference in having to remove the motherboard for heat sink installation, or simply clamping it down and moving along. A very nice feature.
Disassembly:
This wouldn't be a BigBruin.Com review unless we get the tools out and take a look at the innards, so here we go. Four screws hold the very unique plastic bowed finger guard and the golden fan on. After removing those, we are left with an air shield and the sink itself. The air shield is retained by 4 very small screws that screw into the base of the heatsink itself. The shield doesn't appear to do anything really, but it does add to the styling quite a bit.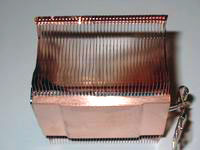 Removing the shield gives a good look at the finned copper sink itself. As stated above there are 40 individual very thin copper plates that are soldered to the base. The top corners of the plates are folded with tabs to each other and help stabilize the upper part of the construction. However, there is no such stabilizing in the upper middle area. This should be no problem, but the center area of the fins could be easily bent if the fan is ever removed for cleaning.
The fan on the CUF-715 is a 70mm x 70mm unit and is 15mm thick. This size will limit the possibilities of installing any performance 80mm fans on this sink. Gaining additional airflow will be difficult. The stock fan is rated at 28 CFM while producing somewhere just shy of 34 dB. It seems this fan is rather noisy for its mediocre CFM rating. This sink would be a great base for one of the T.M.D (Tip Magnetic Drive) 70mm fans available on the market. With a TMD fan rated at 36CFM and 38dB noise goes up somewhat, but airflow will increase even more.
Installation:
After pulling the clear protective sticker off the base, I noticed that the base was somewhat rough, not too bad, but still showed a surface that could use some help. I pulled out a sheet of 400 grit and ran the sink across it a few times and checked again. The base appears to be somewhat concave. Probably not enough to hinder contact with a CPU die, but still, not perfectly flat.
One very nice surprise is the mounting clip. Not only does it take advantage of all three lugs on both sides, it is hinged on the tool side and proved very easy to use. Latch the first side down under the three lugs, insert a flat blade screwdriver into the capture, and just hinge the second side onto the lugs. One of the nicest socket mount clips I have ever used. Should become the standard, it is that good.
With some of the monster heat sinks on the market these days clearance becomes an issue real quick. Capacitors and chipset coolers are being mounted closer and closer to the CPU on many motherboards. This sink should work just about anywhere. There is no overhang past the base dimensions of 85.6mm x 70mm. The board shown in the picture above is a microATX form factor ASUS A7V266VM, a pretty tight packed board. This sink leaves plenty of room even for smaller, tighter boards.
Testing:
I compared the Evercool CUF-715 with a stock AMD heatsink, and a Thermaltake TR2-M2. The AMD sink is one of the newer generation small fin aluminum type and the TR2-M2 is also an aluminum sink but sports a copper core. All testing was done on an Asus A7V333-X motherboard and a non-OC'd 2200+. All three heatsinks were installed with Arctic Silver 3, and monitored with Motherboard Monitor. Idle measurements were taken after 30 minutes of desktop only. Load temps were recorded after 30 minutes of Prime calculations with CPU running at 100%.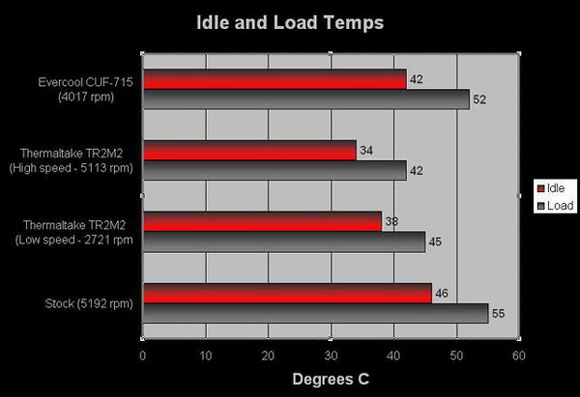 The Evercool CUF-715 knocked a full 4 degrees off of the stock AMD coolers idle temps and 3 degrees from the Load temperatures. It did this with 1100 rpm less fan speed also, always a good thing to keep noise down. However, when compared to the Thermaltake TR2-M2 TMD sink, temperatures didn't fare too well. The Evercool sink was 4 degrees over at idle and a substantial 7 degrees higher at load, and this is with the Thermaltake set at its lowest setting. When the Thermaltake is turned to its highest setting, the differences become huge, 8 degrees at idle and 10 degrees loaded.
Conclusion:
I believe with some lapping and polishing, the Evercool CUF-715 could become quite the performer. The unfinished and slightly concave surface of the Evercool sink is hindering good contact with the CPU die and not allowing the transfer of heat that this device should be able to dissipate. The fan that Evercool decided to go with is not very noisy, but it could be quieter and provide even more airflow. From my experience with the SLK line of Thermalright sinks, thin copper fin heatsinks love more air. The retaining clip is second only to through-motherboard mounting in positive, easy to use, mounting method. As a replacement for stock, or even as a moderate upgrade, the CUF-715 from Evercool is a nice looking, compact, good performing heatsink.
With nice looks, good non-OC'd performance, and a fair price; I give the Evercool CUF-715 Heatsink 3.5 out of 5 stars.
Final Rating (3.5 out of 5 stars):




Pros:
• Well built
• Fair price
• Mounting Clip
• Non directional mounting
Cons:
• Not enough air flow
• Poor finish on base
• Slightly Concave base
Special thanks to Evercool for providing the CUF-715 Socket A Heatsink to BigBruin.Com for review!
Please drop by the BigBruin.Com forum, and feel free to discuss this review.
Forum | Review Index