Posted: March 21, 2004
Author: Spire
Manufacturer: Connectorz
Source: Jab-Tech

Your power supply wires are all bundled and sleeved, the cold cathodes are just right, everything inside your case in neat and perfect, then you see the lame, white common Molex connectors everywhere. They stick out like a sore thumb. Time to finish the job.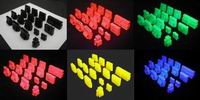 Jab-Tech has an entire line of Connectorz Pro Series Molex connectors in a large number of colors, some even UV reactive. But for today up for review is the Black Pro series.
The Connectorz Power Supply Changeover Kit contains all the necessary connectors to convert even the real beast power supplies out there.
In each kit there is:
• 1 x 20-pin ATX Connector
• 1 x 6-pin Auxiliary Connector
• 1 x 4-pin 12v Pentium 4 Connector
• 2 x 4-pin Floppy Connectors
• 12 x 4-pin LP4 Female Molex Connectors
And if you have some mutant, not from this earth power supply where you need more female Molex connectors, they are available individually in all of the colors. Also available but not included in the Changeover Kits are matching 3 pin fan connectors, matching male Molex connectors, and even 5 packs of male and female Molex pins.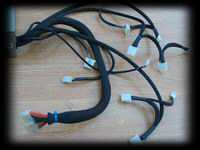 As soon as I opened the box on my Antec TruePower 430, I knew it had to be sleeved. When planning this project I decided that I wanted to get a clean look. This would require removing the Molex connectors to use one size smaller sleeving. Being cheap, I removed all the Molex connectors using a needle. Pressing in the two keepers and sliding the pin out turned out to be a huge undertaking. This time I made sure I had a Molex Pin extracting tool. If you decide that the Connectorz Changeover Kit is for you, do your self a favor and also get a hold of this tool. You will be glad you did. Jab-Tech sells a female pin extractor and also a male extractor for $9.95.
Having many color choices allows you to do some color coding. Hard drives get one color, Optical drives get a different color, and even the smaller floppy connectors for high end video cards and of course floppy drives can get even a different color. The Antec TruePower has one strange 4 pin Molex connector that has a different purpose, it's a temperature controlled "fan only" connector. I thought this is the perfect opportunity to try a bit of color coding and made that connector blue. I know now that this connector is for a fan only.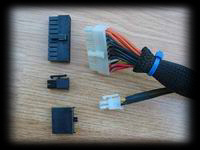 One of the issues I did come upon was not being able to change out the 20 pin motherboard connector or the 4 pin auxiliary connector with the black Connectorz variety. I removed the P4 connector and its associated wiring when the power supply was new to allow more room to sleeve the supply clear into the power supply case, or this connector would have had the same problem
This was not an issue of the connectors, but more a problem of having the right extraction tool. The area around the pins on these connectors is very tight, I couldn't even use my old method of jam a needle in there and hope for the best. I am still looking for the right extraction tool so I can finish the changeover.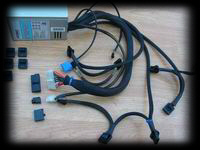 After completing the conversion, I installed the power supply back into the machine and got an opportunity to try out the "quick release" feature of these connectors. The Connectorz have two wings on them that when squeezed together slide down the Molex connector and push against the device its plugged into. This action makes removing the connector from a device flawless. No more rocking back and forth waiting for the connector to finally let go.
The Connectorz Changeover Kits can be purchased at Jab-Tech for $9.95 in any color offered. Individual female Connectorz are $ .65, Male Connectorz go for $ .45, and Basic Series 3 pin fan Connectorz are $ .40 each. The male and female pins come in 5 packs and are also $ .40 a pack.
The Connectorz are a great finishing touch, filling a gap in the modding world that was previously not touched. If a person wanted to change the look of standard Molex connectors, painting them was the only option, and paint is not always the best or cleanest choice. For this I give the Connectorz Pro Series Conversion Kit and the matching individual Connectorz available 5 out of 5 stars, "Highly Recommended!"
Final Rating (5 out of 5 stars):






Pros:
• Look great
• Work better than stock even without color
• Cheap
• Kit includes more than enough for almost any power supply
Cons:
• Some information for getting the 20 pin, auxiliary, and P4 connectors converted would be nice.
Special thanks to Jab-Tech for providing the Connectorz Power Supply Changeover Kit to BigBruin.Com for review!
Please drop by the BigBruin.Com forum, and feel free to discuss this review!
Forum | Review Index