About 5 years ago we first reviewed the Kingston
Wi-Drive
, a wireless storage device with fixed storage that was one of the first devices of its kind to effectively increase the available storage for mobile devices. Two years later we reviewed the next version, the Kingston
MobileLite
. This device made the natural progression of adding a USB port and flash card reader. A year after that we got our hands on the
MobileLite G2
. Again this device added to the previous feature set with a wired Ethernet port. The Gen 3 version of the MobileLite comes in two flavors; the G3 and the G3 Pro. The main difference, besides color, is the G3 Pro adds a slightly larger battery and 64GB of internal storage.


For this review Kingston supplied the MobileLite G3 with a Kingston 128GB SDXC UHS-1 U3 card. Before we see what's new with the Mobilelite series, below we have a full list of features and specifications from the Kingston site and the product's literature.
Features and Specifications:
» Battery backup: Quickly and easily charge your smartphone up to 2x's . MLWG3 features a 5,400 mAh battery
» Easy mobile backup: Save your important photos, videos, contacts and more. The MobileLite app offers a one-touch
backup option.
» Add storage: MLWG3 lets you easily access the content on USB drives and SD cards from your smartphone.
» Two-year warranty with free technical support: For peace of mind, MLWG3 and MLW Pro are backed by a
two-year warranty, free technical support and legendary Kingston reliability.
» Local Storage: wirelessly transfer files to and from the MobileLite app and the MobileLite Wireless hardware
» Camera Roll support: allows users to move photos and videos from their mobile device to MobileLite Wireless
in order to free up space
» Inputs for Storage: USB and SD - reads SD, SDHC, SDXC and microSD/microSDHC/microSDXC (with included adapter)
» Supported File Systems: FAT, FAT32, NTFS, exFAT
» Dimensions: 115mm x 80mm x 24mm
» Weight: 192g
» Wireless Network Interface: 2.4GHz 802.11b/g/n & 5GHz 802.11ac
» WLAN Ethernet Port: to function as an access point
» Rechargeable Battery: up to 11 hours of continuous use; Li-ion 5,400 mAh battery with 3.7V 2.0A output maximum
» Customizable Device Name: (SSID) User selectable Wi-Fi priority list when there are multiple APN/Key available
» File Support: MobileLite Wireless can store any file type. Playback and viewing are based on the files supported
by the mobile device
» General file format support:
» Audio: MP3, WAV
» Video: m4V, mp4 (H. 264 video codec)
» Image: jpg, tif
» Document: pdf
» Compatible Mobile Devices: iPad 2/3rd Gen/4th Gen/Air/Air 2, iPad Mini/Mini 2/Mini 3/Mini 4, iPad Touch 5th Gen/6th Gen,
iPhone 4S/5/5S/6/6+/6S/6S+, Fire, Fire HD (4.6+), Android (4.2+)
» Storage Temperature: 0-45°C
» Operating Temperature: 0-35°C
Packaging and Accessories:
The Kingston MobileLite Wireless G3 comes in a relatively small box that provides a brief listing of what the device can do. Basically it is limited to mentioning the extension of storage via SD and USB devices and that it can also serve as a device charger. While many of the details listed above are not mentioned, the package is appealing and does appear to provide adequate protection to the device.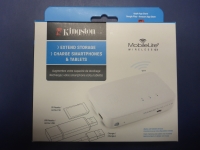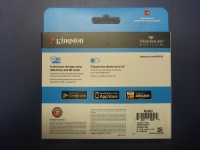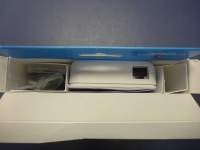 Inside the box you will of course find the MobileLite Wireless G3 as well as the quick start guide, USB charging cable, and micro SD card adapter. The micro USB cable is relatively short, about 50cm, which could be an asset depending on your set up.