Serener GS-L01 Fanless Mini-ITX Case - Page 2 of 6

External Features:

With the case removed from the protective, we can take a good look at all the stylish external features. Aluminum and steel are the main material of construction, and a sleek black finish has been applied to all surfaces. During testing it was found that the finish scratches somewhat easily, so caution should be used when placing things on the case.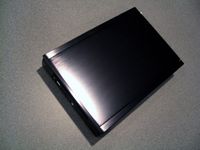 The extruded aluminum front panel is shown in the images below. An opening is provided for use with a laptop style optical drive, as well as (from left to right); a Firewire port, two USB ports, a headphone jack, a microphone jack, a reset button, power LED, HDD activity LED, and a power button.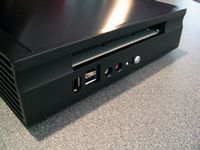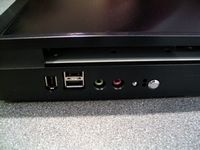 The appearance of the case's front panel is really sharp, and looks more refined than many other computer systems. One person I showed the system to assumed it was a DVD player given its sophisticated good looks. One issue with the front panel is that the reset button is slightly recessed and quite small, making it all but impossible to use, unless you have something to poke it with.

The below left image shows the opening for the Mini-ITX back plate, a small hole where the power connection will be mounted, and a single thumbscrew. The top cover is attached by just one screw, making access quite easy, while still keeping the cover on securely. This view also provides a good look at the aluminum fins found on either side of the case. These will act as large heatsinks to passively exchange the heat from the system to the surrounding air.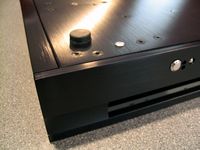 The above right image shows a portion of the bottom of the case. In addition to the vibration absorbing, non-slip rubber feet, various flush mounted nuts can be seen that hold internal components in place. Even the bottom of the case looks good!

Accessories:

Before taking a look at the inside of the case, let's see what else is included. The below left image shows the AC power adaptor and separate extension cord. The below right image shows (clockwise from top); a syringe of thermal paste, thermal pad (for use on southbridge chip), cable ties, metal clips to guide cover, cable management anchor (for use with cable ties), and a bag full or various screws and clips.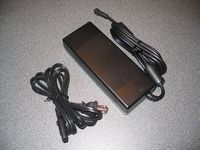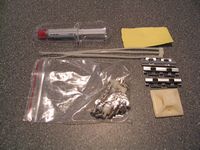 The heatsink shown in the images below is for use on the southbridge chip. The finish is quite similar to the exterior of the case, and the installation consists of using the double sided adhesive found on the thermal pad shown above.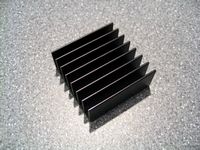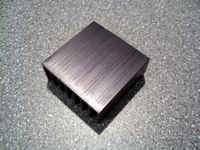 A mesh sheathed power cable is also provided to make the short connection between the onboard 90W DC power supply and the motherboard. Although not needed in the GS-L01, the power cable includes plugs for a floppy drive and typical hard drive/optical drive.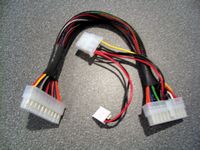 Please read on to the next page for more... Next

Page 1 | Page 2 | Page 3 | Page 4 | Page 5 | Page 6 | Home | Forum | Review Index