1024MB OCZ EL DDR PC3200 Dual Channel Gold - Page 2 of 3

Specifications:

As you already know the OCZ DDR PC-3200 gold memory modules use Winbond BH5 chips. These chips are known for ultra low latency (2-2-2-5, 1T) timings. They are also known for their ability to respond well to higher voltages than most chips. This leads to my goal in this review; to show the memories ability to overclock with ultra tight 2-2-2-5 timings at different voltage increments.

Here are the specifications as shown on the OCZ website:

• 400MHz DDR (PC-3200)
• CL 2-2-2-5 (CAS-TRCD-TRP-TRAS)
• Also available in a 512MB Module
• Unbuffered
• Gold Layered Copper Heatspreader
• Lifetime Warranty
• 2.8 Volts
• 184 Pin DIMM
• EVP® (Extended Voltage Protection up to 3.0V ±5%)
• ULN (Ultra Low Noise)
• EL (Enhanced Latency)

Overclocking and Testing:

All benchmarks were performed on the following system:

• DFI LANParty nF4 SLI-DR
• AMD Athlon 64 3000+ Winchester (good to about 2480MHz)
• 2 x 6600GT video cards
• 1 x Western Digital Raptor HD
• 2 x 200GB Seagate's in RAID 1

BIOS settings and timings are as follows:

• BIOS version 510-2 (Oskar Wu's modified BIOS)
• CPU multiplier x 9
• Dram Frequency Set (MHz): 200MHz or 1:1
• Command Per Clock (CPC): Enabled 1T
• CAS Latency Control (Tcl): 2
• RAS# to CAS# delay (Trcd): 2
• Min RAS# active Time (Tras): 5
• Row precharge time (Trp): 2
• Row cycle time (Trc): 7
• Row refresh cycle time (Trfc): 15
• Row to Row delay (Trrd): 2
• Write recovery time (Twr): 2
• Write to Read delay (Twtr): 2
• Read to Write delay (Trwt): 3
• Refresh (Tref): 3120
• Write CAS Latency (Twcl): 1

The method used for testing was to find the maximum overclock at .2V increments starting with 2.8V without changing any timings. All frequencies shown are both PI and Prime 95 stable. After a high point was found extensive game testing was done to ensure stability. The following chart shows the maximum overclocks for each voltage increment. Something that stood out to me here was that I could take the front side bus speed up to 222MHz (DDR444) without changing anything else. This also gave me a nice jump in bandwidth with very little work involved.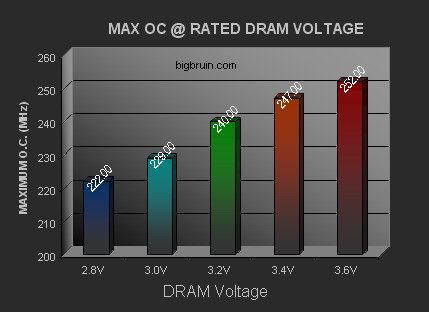 Now let's take a minute to talk about bandwidth. Bandwidth is the final goal when overclocking a computer. The high front side bus speeds sound good although they are worthless without bandwidth. In other words an increase in bandwidth will increase the overall speed of your computer. For the purpose of testing bandwidth I used Sandra SiSoft 2004 and Everest Home Edition to measure raw read/write speeds. The following charts show the differences in bandwidth and read/write speeds at different front side bus speeds (higher is always better here).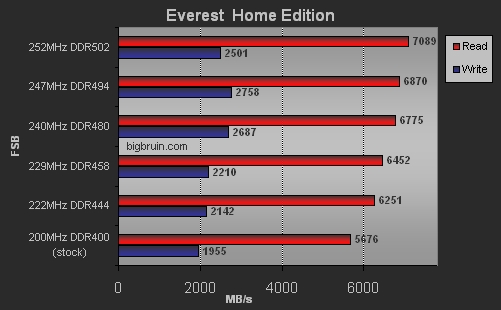 Please read on to the next page for more... Next

Page 1 | Page 2 | Page 3 | Home | Forum | Review Index