Installation:
Installing the Accelero X1 is extremely easy since there is not much to it. Removing your current cooler will probably be the toughest part of the installation. Here you can see my eVGA 7800GT installed with the default cooler, as well as the Arctic Cooling NV Silencer 5.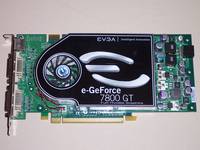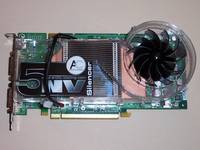 Once you remove your current cooler and any RAM heatsinks, you will simply attach the RAM thermal pads and then place the cooler onto your video card ensuring the ten (10) screw mounts go through the appropriate holes. Attach the support bracket on the back of the video card using the included screws and you are done. Simple! Anybody can do it!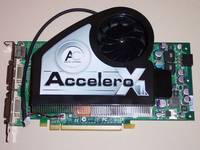 You are almost done with the install and the final step is to make sure you have plugged in the fan. You can plug it into the fan power plug on the video card, or use an external power source. For my tests, I will allow the card to provide the power for the fan. This step could be a little difficult since part of the plug is covered by the heat sink.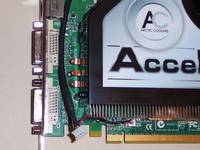 Not only does the Accelero X1 provide cooling for the GPU and the video card memory, but it also provides a little cooling for the voltage converters. I can't say how much this helps the performance of the card, but we all know excessive heat kills, so cooling any component is welcomed. The voltage converters are cooled by air coming out of a little slot on the side of the cooler. Placing my finger next to the slot, I could feel a little bit of air coming out.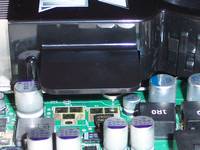 If you want to install this card in a SLI system, please be aware that on some systems this cooler might not fit. On my DFI Expert board, there is a significant amount of space between the PCIe slots, while on the Gigabyte K8NXP-SLI there is not as much space. I would recommend you verify you have at least 1.5 inches of space between the PCB of each video card. Below you can see the cooler installed on the Gigabyte K8NXP-SLI motherboard in the second slot.