Thermaltake XTunner IR Fan Speed Controller - Page 1 of 1

Cordless hammer? How about a wireless toaster? Or better yet a remote controlled Coffee Maker? It would seem right off hand that a Remote Controlled Fan Controller would fit nicely in the same category of useless gadgets. Indeed that's what I thought until Thermaltake was kind enough to send over the XTunner 4 Fan Speed Controller.

The Xtunner is packed all ready for pegboard hanging at your favorite retail outlet. It has the unique look of Thermaltake Xaser cases with the broad "X" or bone shaped graphics across the front. The XTunner consists of a 5 ¼" bay device, a credit card sized remote control and an assortment of accessories for installation and connection. Also, a press release issued by Thermaltake describes the additional "n" in XTunner as representing "innovation".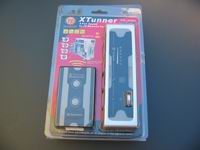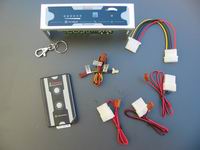 First Look:

Within the packaging is three, 4 pin pass through to 3 pin adapters, one key ring for the remote control, one 4 pin Molex extender, and an adapter to allow you to still monitor fan speed from your motherboard. The 4-pin to 3 pin adapters are the high quality kind in that the pass through 4-pin part is one piece and not 2 separate connectors. The speed monitor adapter is a great addition, allowing the yellow wire from the fan to end up plugged back into the motherboard for programs like Mother Board Monitor or more importantly, to keep the ability of some BIOS's automatic shutdown on CPU fan failure. I'm not quite sure why you would ever need to keep the 1/8" thick remote on your key chain, but they have included a rather nice spring clip/split ring unit for just that purpose.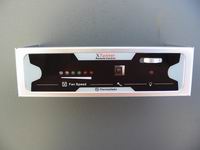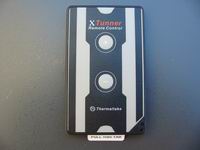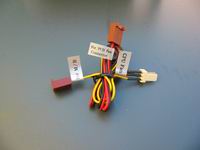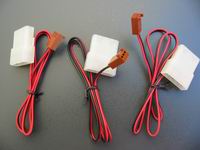 A closer look at the controller itself shows not a whole lot of circuitry going on. There is a circuit board with one large IC, a 5-volt power regulator, a wide-angle IR detector, a bank of 6 LED's, and a few regular sized resistors, capacitors, and transistors. Checking the circuit traces shows this device only uses the 12-volt side of the 4-pin Molex connector and has no connection for the 5 volt part. The circuit board is actually manufactured for Thermaltake by JAECS Co. I checked out the Web address on the circuit board for JAECS and found them to be an OEM designer and supplier of remote control integration type equipment. The JAECS model number shows this board to be specially designed just for Thermaltake. One other strange thing I still have not found a reason for and can only speculate as to its purpose is the small loop pressed out the front of the controller. It can be seen right over the power LED in the close-up shot above and in all the shots of the front. Could this be a place to hang the remote control?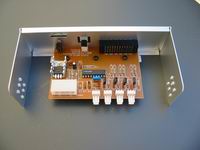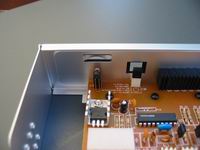 Speaking of remote controls, the remote control for this unit has just two buttons, "+" and "-". The front has the familiar Thermaltake X. The battery is a rather large, thin button cell, almost identical to the CMOS battery on many motherboards. There is a small catch that releases a door; the battery is contained in the drawer. There is a hole in the lower right hand corner for the key chain. The unit feels durable and doesn't flex when twisted. I'm not sure it would last long in a pocket, but its tough enough for normal use. To protect the battery from running down, a plastic tab has been added on top of the battery, as it says, pull this tab to activate the remote.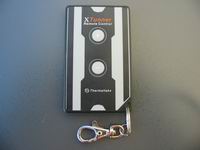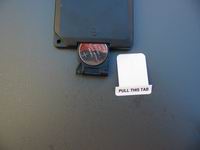 Installation and Use:

Installation couldn't be easier, although Thermaltake did not include any mounting screws, which seems strange. Once mounted, 3-pin fans are just plugged into one of the channels, 4-pin Molex connector fans will need one of the adapters. And now is the time to choose which fan your motherboard monitors. I recommend using the Molex extension only due to the fact that the connector on the device is tucked quite a ways back. One bit of caution, if you decide to run your CPU heatsink off of this or any Rheobus/ fan controller and your controlling device fails, you could destroy a processor in seconds. I personally do run my CPU cooler fan off of a standard Rheobus, but I make sure to watch for failures and the fan is still monitored by my motherboard.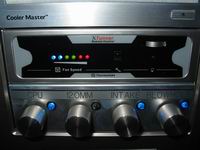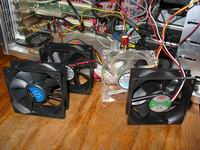 Due to the fact that all my fans have either custom connectors or are hardwired to my Rheobus, I installed the XTunner into a drive bay and hooked an assortment of fans to it for testing purposes only. Checking the Thermaltake website for specifications didn't yield a whole wealth of information, but it did cough up one important fact: Each channel is capable of driving 1 AMP. Checking a few different fans for current draw shows not many rated over 1 AMP. Some of the big guns like the Vantec Tornado 92mm 119 CFM fan are rated at 1 AMP. So it seems like most fans can run happily on the Xtunner.

I fired up my machine and right away noticed that the XTunner defaults to running the fans at full speed, probably a good thing to avoid mistakes and heat issues, but a pain to have to turn them down each time. The lights are bright and do a good job of indicating what setting you are running the fans at. The remote buttons are crisp feeling and don't leave you wondering if you hit one or not.

My first and only test I planned on running was to compare the slowest and fastest speed and the default speed of one fan. Well, I was unable to do that. Mother Board Monitor would not show a steady speed of rotation for any fan I tried to monitor. If I plugged the fan into my motherboard directly, everything was fine; I had a nice steady speed. If I adjusted the speed of that same fan using my existing Rheobus, everything was fine. However, there must be some interference between my motherboard and the Xtunner. RPM's would jump from under 1400 to well over 10,000. I had the same results watching the hardware monitor in BIOS setup.

Just from ear, I can definitely say that the highest and lowest fan speeds are quite a bit different and that the Xtunner does a good job of changing fan speeds. I am just not able to quantify that difference.

Now, lets go back to the beginning of this review and think about why we need such a device. I compared the XTunner to a wireless toaster and of all things a remote controlled coffee maker. However, I have come up with the perfect reason to have this device. Think HTPC, if an HTPC, which is often many feet if not an entire room away, was to have one of these, fans could be controlled from a universal remote control just like all the rest of the functions. Start a movie or play music, turn the fans way down. Fire up a killer game and turn the fans up to keep things nice and toasty. I have not experimented with the possibilities, but the XTunner is just an IR type device and should be able to be controlled with any learning IR remote. Now that's better than a wireless toaster anytime.

Conclusion:

As a desktop gaming machine add-on, I'm not sure I get the whole remote control thing. As a specialty item or for the machine that has to have ALL the bells and whistles, the XTunner is right on the money. And speaking of money, I was able to find the XTunner at a few online outlets for right around $20.00. Cheap for what you get. One very big issue that could come up later on with the XTunner is the lack of buttons on the device itself. If you lose the remote, you lose the whole thing.

The XTunner is a nice device, it does just what its supposed to and for that I give it 4 out of 5 stars.

Final Rating (4 out of 5 stars):





Pros:

• Works like it should
• Well built
• Good price

Cons:

• One setting for all channels
• No buttons on controller
• Defaults to high speed
• Possible interference to motherboard monitoring circuits

Special thanks to Thermaltake for providing the XTunner IR Fan Speed Controller to BigBruin.Com for review!

Please drop by the BigBruin.Com forum and feel free to discuss this review!

Home | Forum | Review Index | Page Views:
Bruin Tracks
» Up to 35% off at Monoprice.com

» Shell Shocker Deals at Newegg.com

» eBay
- Shop Victoriously!