The Basics:
At about 6-1/2" high x 4-1/4" wide x 9-1/8" deep, the
Synology
DiskStation DS212 has a very small footprint. It should be easy to find a home for this device in any setting, and I found that it was small enough to stash on a typical book shelf while giving it a few inches in the back for proper ventilation of exhaust air.


The image below shows the review sample fresh from the box. The front panel has a glossy finish covering the drive bays, with all of the buttons, indicator lights, and text labels found off to the right. From top to bottom there is a Status LED, a LAN indicator LED, LED indicators for Drive 1 and Drive 2, an SD card slot, a USB 2.0 port, the "C" button which is for copying from attached USB drives, and finally the power button.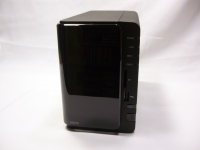 The below left image shows an angled view of the enclosure. We see that the glossy front panel stands off from the front of the device, allowing the fan we will see at the back of the enclosure to draw air in through the openings which will cool the drives. In these two images we see that the top and sides of the enclosure are solid, and to break up the expanse of flat black they have embossed their logo in to the side panel.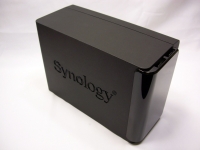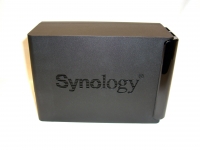 The next two images take a look at the DS212 from around back. The 92mm fan dominates this view, but here we also find a reset button, two USB 3.0 ports, a Gigabit Ethernet connection, a Kensington lock slot, and the power connector. While the unit does come with a 120VAC power adapter, you can see in these images that the device actually runs off of 12VDC. Considering the low power consumption, it might be interesting to consider the alternative, perhaps mobile, applications of such a device.