Conclusion:
If you are looking for a video card to power your new HTPC project, or if you are looking for an upgrade to your existing setup that uses integrated video, the
Sapphire
Radeon HD 6670 LP card is a fairly good choice. If you are looking for a card like this that has to fit a low profile case, this is pretty much your only choice! With an 800 MHz core clock and 1000 MHz memory, you will have no problems at all pushing your media without issue. And with 480 stream processors you won't have many problems playing your favorite video games at around medium settings. We saw that the Sapphire Radeon HD 6670 LP does not pack the same amount of power as some of the other cards in our testing, but it still hung in there and showed us that you don't have to be expensive, nor do you have to eat up a lot of power, to have a nice quiet, energy efficient HTPC setup.


When you keep in mind that the Sapphire Radeon HD 6670 LP video card was not made to be put through the ringer like we did to it, it still performed well in our testing. It will fit easily into almost any computer case that you would want to install it in, and even with a full load it was almost whisper quiet and radiated very little heat out of the case. It would make a perfect video card for any media PC or HTPC application.
Coming in under
$90.00 (US)
, which includes a 2-year warranty and a coupon for free software downloads from AMD, the Sapphire Radeon HD 6670 LP is the cheapest HD6670 card with 1GB of GDDR5 memory presently listed at
Newegg.com
.
In the end the Sapphire Radeon HD 6670 LP video card earns both the Bigbruin.com "Recommended" and "Whisper Quiet" awards.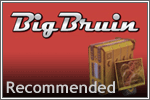 Pros:
» Quiet
» Small form factor
» No external power needed
» Runs cool
Cons:
» Obviously not a good choice for hardcore gamers or overclockers
Please drop by the Bigbruin.com Forum and feel free to post any
comments or questions
.