Testing (continued):
Battlefield Bad Company 2:
Battlefield Bad Company 2 is the latest in a long line of Battlefield games and it is the first of the series to run on DX11. Not only is this game fun to play, it looks amazing. We ran BC2 with all of its graphics settings as high as they could go and we ran our tests on the map frozen from the start of the checkpoint until we reached the frozen lake bed. During this time we experienced snow drifts, combat and a good look at the sky.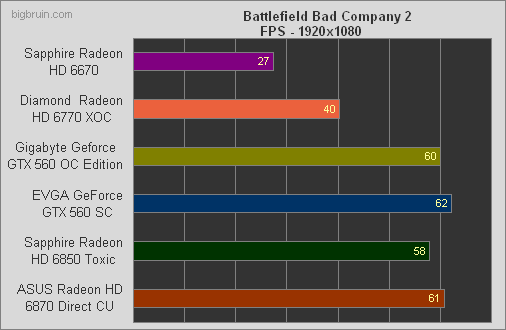 At 1920x1080 the Sapphire Radeon HD 6670 had a little bit of a struggle trying to keep the frame rates up, but at 1280x1024 the frame rates were totally playable even during fights where there were a lot of explosions and gunfire. Unfortunately at 1920x1080 during those same explosions and gunfire there was a lot of lag and the game would almost come to a stand still at times.