The Basics (continued):
The SATA ports are mounted sideways to ensure they won't interfere with longer video or other expansion cards. The four light blue ports are SATA II/3Gbps and are capable of RAID 0,1,5, or 10. The grey ports in the middle are the newer SATA III/6Gbps and controlled by the P67 chipset. The two darker blue ports on the right are also SATA III/6Gbps, but are controlled by the Marvel 9120 chipset. From this angle you can see how low the heatsinks sit to maximize clearances. Also, in the bottom right corner of the image, you can just make out the light blue USB 3.0 header.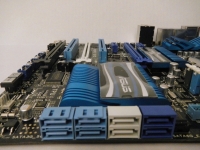 Our next image shows the top right corner of P8P67 EVO. As we saw in earlier reviews, ASUS is using the newer style of clips for the RAM slots - one side of the clip is stationary and the other tilts back for insertion and removal. This helps to minimize potential breakage as well as aiding in making sure the modules are seated properly. The MemOK! button is also present (which we have also seen previously). To refresh, MemOK! - "the one and only DRAM self-tweaking technology that enables the motherboard to tweak the DRAM timing parameters automatically" - is a boot rescue feature that allows you to safely reboot the motherboard if you encounter memory issues. Lastly, there is a switch to control the EPU feature - a real-time energy saving feature that helps maximize power efficiency.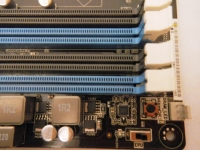 The heatsinks and the use of newer solid-state capacitors surrounding the socket are low enough that they shouldn't interfere with any after-market coolers. An added bonus is that the cooling from those units should help with cooling the heatsinks due to their finned design.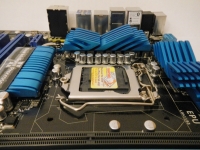 The I/O panel for the P8P67 EVO is quite similar to the other P67 boards we've seen from ASUS. They are still including two PS/2 ports for legacy keyboards and mice. For external audio, coaxial, optical and regular old 8-channel jacks should offer enough choices for everyone. The purplish bulge above the red ports is ASUS' Bluetooth antenna. Below that are two USB 2.0 ports, followed by two more, a IEEE 1394a and eSATA port. The next riser holds an 10/100/1000 Mbps LAN port and two more USB 2.0 ports. The next to last riser holds a second 10/100/1000 LAN port and two USB 3.0 ports. The tiny button between the riser and the audio ports is for doing a CMOS reset in case your manual overclock goes bad. The green eSATA port is actually powered so you can use devices such as Seagate's GoFlex drives, which caused us issues with other eSATA connectors - it now works perfectly.