Testing (continued):
PCMark Vantage x64:
In
Futuremark's PCMark Vantage x64
, the hard drive portion of tests were run multiple times with the average shown below. Four of the included tests were selected to be presented; each test provides results in MB/s, and a higher score is better.
In the Application Loading portion of the test the OCZ Agility 3 received the best score of 286MB/s while the Vertex 4 received 195MB/s.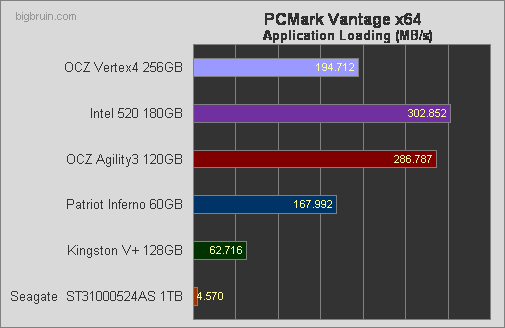 In the Windows Defender test, the Vertex 4 came in third place again behind the Agility 3 and Intel 520 with a speed of 193MB/s.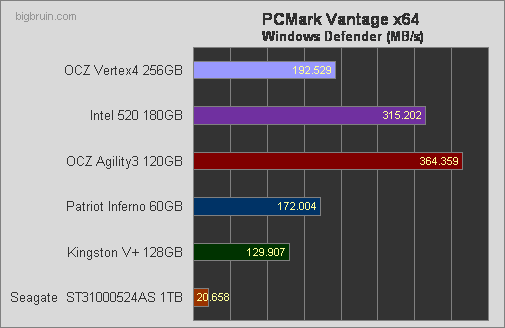 The Vertex 4 received almost 50% of the score that the Agility 3 received.
The Windows Media Center test was the only test where the Vertex 4 performed close to expectations. Receiving a score of 344MB/s it was faster than the Agility 3, but slower than the Intel 520.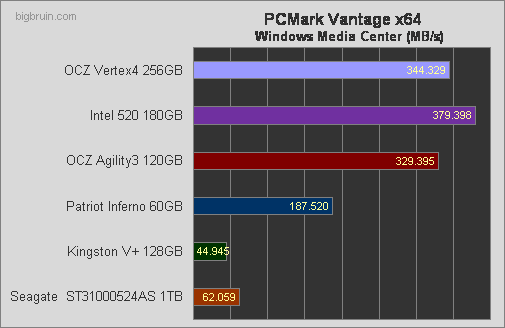 With the incredibly low scores the Vertex 4 received, it appears that there is something that PC Vantage doesn't like about the drive. While the Intel 520 drive received better scores than the Vertex 4, it didn't perform as well as expected. The Vertex 4 received slightly better scores than the Patriot Inferno, and much lower scores than the previous generation Agility 3.