Testing:
Testing the OCZ Vertex 4 256GB solid state drive will consist of running it through multiple suites of tests...
» CrystalDiskMark 3.0.1 x64
» HD Tune Pro 5.0
» ATTO Disk Benchmark v2.47
» AS SSD Benchmark 1.6.4237.30508
» PassMark Performance Test 7.0
» PCMark Vantage x64
For comparison purposes, the OCZ Vertex 4 drive will be matched up against the following drives:
» Kingston 128GB SSDNow
» OCZ Agility 3 120GB SSD
» Patriot Inferno 60GB SSD
» Intel 520 series 180GB SSD
» Seagate 7200.12 SATA III hard drive.
CrystalDiskMark 3.0.1 x64:
CrystalDiskMark
is capable of testing sequential and random data transfer speeds for drives. All tests in CrystalDiskMark were conducted using 1000MB test files; the average of 3 test runs is presented in the charts below. In these tests, the higher the score the better the performance.
Sequential Read: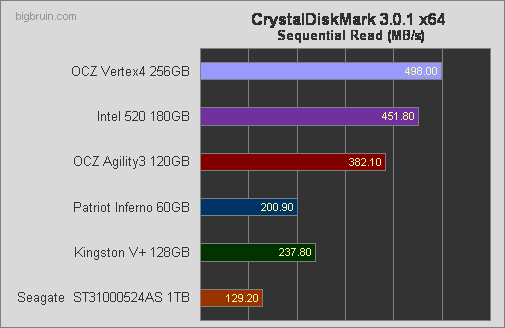 Sequential Write: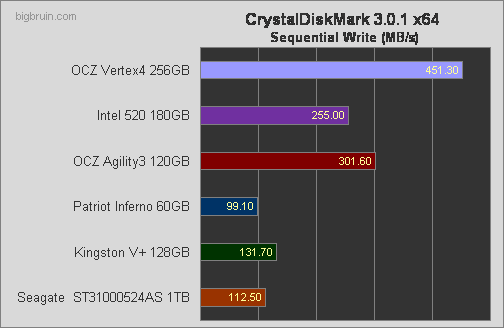 4K Read: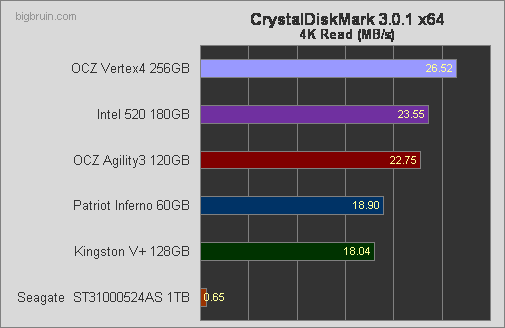 4K Write: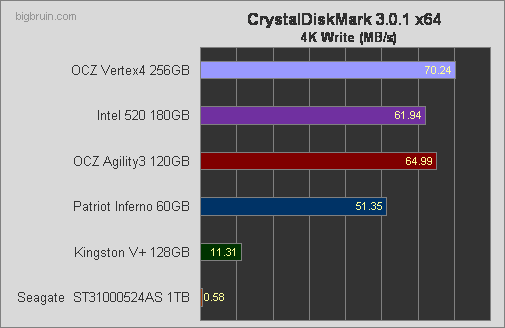 512K Read: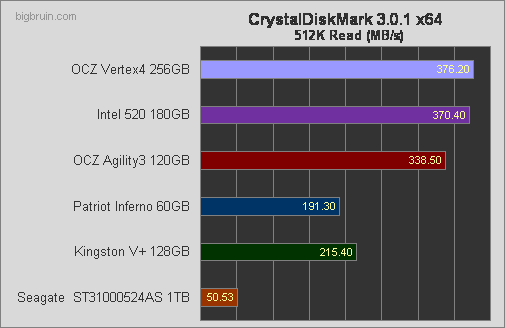 512K Write:
Looking over the results, the OCZ Vertex 4 lead the pack in every test done by CrystalDiskMark. The Intel 520 drive came close to the OCZ score in the 512K Read test, however none of the test drives came close to the write speed of the Vertex 4.