The Basics:
The top of the drive is painted black, and has a large label providing information such as the model of the drive, that it is a "2.5" Sold State Drive", and that it is "Indilinx Infused". There isn't too much to the drive as physically it is like most other SSDs.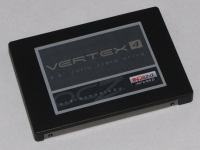 The bottom portion of the drive is brushed aluminum, which provides a nice professional look. In the four corners are the required mounting screw holes, while the rest of the bottom has a large label providing such information as the part number, serial number, several warnings, and a QR barcode which when scanned with a Droid 4 phone, provided no web results. This is a cool way that OCZ could've taken advantage of to speed up registration of the drive, no big deal though. On one end of the drive (top of the drive in this picture) are the standard SATA data and power connectors.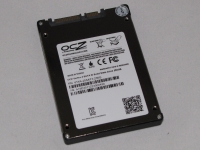 Installation and Operation:
The system detailed below was used to test the OCZ Vertex 4 256GB SSD:
» AMD 1090T processor
» ASUS Sabertooth 990FX AM3+ motherboard
» ASUS GTX 560Ti graphics card
» Kingston 128GB SSDNow V-Series solid state drive (for OS)
» Intel 180GB 520 Series solid state drive (games)
» Seagate 7200.12 1.5TB hard drive (data)
» Seagate 7200.12 1.0TB hard drive (data)
» 16GB (4x 4GB) Kingston HyperX DDR3 1866MHz memory
» Windows 7 Ultimate 64-Bit operating system
The Vertex 4 installs like other hard drives or SSDs; when connected to a SATA 6Gps port on the motherboard it was detected by Windows 7 immediately. The screenshot below shows what CrystalDiskInfo version 5.0.0 says about the drive. Everything is what we would expect to see, and the firmware version, serial number, and many of the electronic features are all confirmed.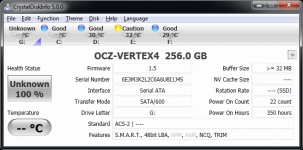 There were a few surprises, though. The Health Status and Temperature were not registering, and the system did not activate either the APM (Advanced Power Management) or the AAM (Automatic Power Management). On a side note, the temperature did not register on the Intel SSD either.