Installation and Operation:
The NH-L12 was installed in to a system designed specifically to produce very little noise, including touches such as using Noctua case fans, a passively cooled video card, and the bulk of the case's internal surfaces being lined in acoustic deadening foam. It is used as an HTPC, and provides the movies, music, and live TV for one room in my home. Sporting a Radeon HD5450, a Phenom II X4 840 processor, and 4GB of memory, it isn't most modern system, but it does have plenty of power for multimedia applications and light gaming. The one thing I wanted out of it was even less noise, and for some reason it has been running on AMD's stock cooler for a few months, which definitely won't provide the best cooling or noise production.
With an AMD setup the NH-L12 is extremely easy to install, mainly because you retain the stock motherboard backplate. Simply remove the retention bracket from the top of the board, and replace it with the two crescent shaped brackets provided by Noctua. Each of these is secured to the stock backplate by two screws, so this phase of the installation was completed in just a couple minutes, and the motherboard does not have to be removed from the case. With a thin smear of thermal paste in place, the only other thing to do is to bolt the NH-L12 to the brackets using the two screws mounted around the base of the cooler. The included screwdriver passes through the fans and fins with ease, and the whole process of swapping the CPU cooler was done in under five minutes. The image below shows the final result.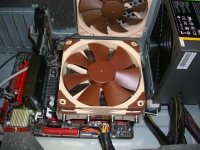 What you may have noticed is that the lower 92mm fan is not present in any of these pictures. Early I mentioned concerns about interference with system components, and it turned out to be the case. The system memory, which uses no heatspreaders and is of average height, prevented the lower fan from being installed. The memory clears the base of the heatsink's fins with ease, but this configuration will require that only the top fan be used. The asymmetrical design of the cooler forced the installation to be completed in this manner, as spinning it 180 degrees would have been the only choice, and that would have required the removal of the case's exhaust fan.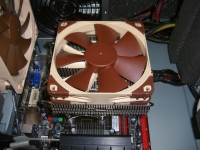 Doing some rough mockups with other Intel systems shows that similar issues could pop up there, as well. With a Mini-ITX motherboard I have, the lower fan would interfere with the system memory (but the heatsink itself was too tall to fit in the case without the top fan anyway) and on a full ATX board it would fit with both fans in place, but rotated in one direction only to avoid a chipset cooler.