Testing:
In order to test the ASUS Maximus IV Extreme ATX motherboard, we used the following components:
» Intel Core i5 2500K 3.3GHz processor
» nVidia GeForce GTX 470 video card
» Kingston HyperX 8GB (2x4GB) DDR3 PC3 12800 memory
» Western Digital 1TB SATA 3Gbps hard drive
» Cooler Master EPS 12V 750 Watt power supply
» Windows 7 Home Premium 64-Bit operating system
In addition to benchmarking the Maximus IV using our CPU at stock speed, we recorded the results with the processor overclocked via the included utility by about 30% (or 1GHz). The same configuration, with the CPU at stock speed, was also tested on an ASUS P8P76 Rev 3.0 motherboard for reference.
The following tests were run on the three configurations described above:
» SiSoft Sandra Engineer Standard (2011)
» Crystal DiskMark 2.2
» Performance Test 7.0
» Windows 7 Experience
» Unigene Heaven 2.5
SiSoft Sandra Engineer Standard:
Sisoftware offers one of the more popular testing suites with their Sandra series. Sandra Engineer Standard 2011.5.17.47 was used to test a variety of system components, and the results are shown in the next four screenshots. The first two charts below are the Processor Arithmetic and Processor Multimedia Aggregate scores.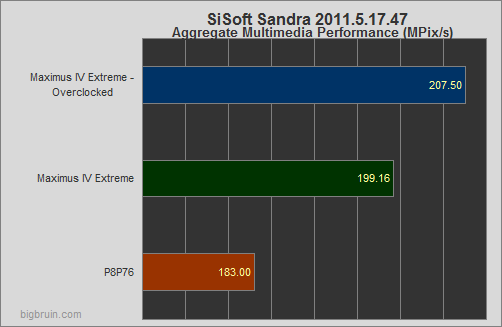 In both tests, the overclocked ASUS Maximus IV Extreme was a good bit better than the other, as expected. In the Processor Arithmetic test, the regular P67 board was just slightly better than the stock Maximus IV.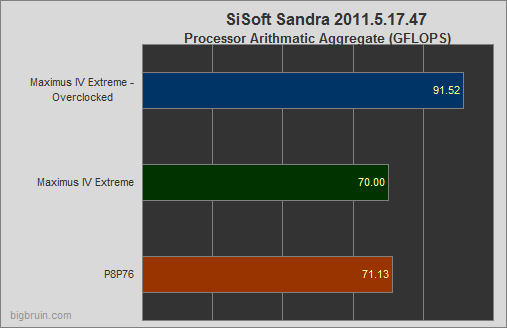 Our next two tests are along the same lines, with the stock Max IV board being the best performer and our plain-jane P67 board bringing up the rear. First in Processor ALU Power Efficiency...
And then in Multicore Efficiency Intercore Bandwidth...