Software:
In addition to 3DMark Vantage Advanced Edition and Kaspersky Anti-Virus, the ASUS Maximus IV Extreme comes with a Republic of Gamers branded version of CPU-Z. It doesn't differ too much from the regular freeware version except for the red and black color scheme.
After a reboot and launching CPU-Z for the first time, we see that our Core i5-2500k processor is running in Turbo Mode or slightly above stock settings, but the Front Side Bus is still at 100MHz.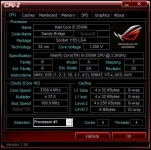 Clicking on the Mainboard tab confirms both the Sandy Bridge chipset and that our sample motherboard has the latest stable BIOS from ASUS. There are 2 newer BIOSes, but they are still in beta.
The memory tab shows our Kingston RAM running at stock speeds and timings.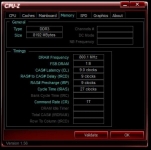 The last 2 images show the result of running the auto-clock feature of the included AI Suite II software. with just a click of a button, and a few reboots, we get a fairly nice 1GHz overclock.