Conclusion:
If you're a hard core overclocker, the
ASUS
Maximus IV Extreme P67 ROG motherboard will provide you with all of the tools you could ever need to squeeze every last drop of performance out of your hardware. If you are merely an inquisitive enthusiast, it will give you the tools to take your components to the next level. If you are simply a beginner, the Maximus IV Extreme is simple enough to configure to give you the performance boost you crave with all of the tools you'll need as your overclocking skills mature.


Over the course of the review, the abundance of cool features and novel extras we encountered were definitely impressive. The strong showing continued as we toured the feature packed BIOS, the simple overclocking interface, and saw just how well it could perform during testing.
With all of the added tools, features, and configuration options, the Maximus IV Extreme is a really great board overall, but due to all of the bells and whistles it is priced at the higher end of the single socket motherboard spectrum. While some users may never need or use the full capabilities of this unit, they certainly are an asset should the user's skill (or curiosity) increase over time.
The ASUS Maximus IV Extreme P67 ROG motherboard is priced around $300 - and a quick check of the
Bigbruin.com shopping engine
shows that it can be found at fine retailers such as
Amazon.com
for $309.99.
We give the ASUS Maximus IV Extreme P67 ROG motherboard the Bigbruin.com "Recommended" and "Gaming Approved" awards for providing top-of-the-line features that will help you take your game to the next level - and that level resides in the Republic of Gamers.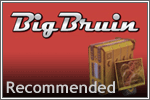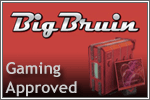 Pros:
» Includes all the bells and whistles
» Strong performance
» Plethora of overclocking options
» 10 full USB 3.0 ports
» 4 full size PCI Express x16 slots for greater expandability and performance
Cons:
» Price
» Extended ATX size may not fit all ATX chassis
Please drop by the Bigbruin.com Forum and feel free to post any
comments or questions
.