Testing (continued):
Crystal DiskMark 2.2:
Crystal DiskMark is a simple hard disk benchmarking application that can perform sequential or random read/write tests on a selected drive. You can select the number of read/write operations as well as the size of the data sample. The test was run using the 1000MB files option for a full 5 passes. Higher scores in this test are better. The first two charts below show the Sequential Read and Write portion of the benchmark. In the Read test the overclocked Maximus IV Extreme once again takes the win, with our stock review sample bettering the generic ASUS offering.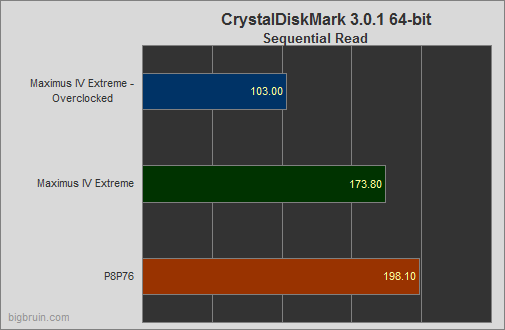 In the write test we see a much different picture, as our overclocked board gets smoked by the generic board.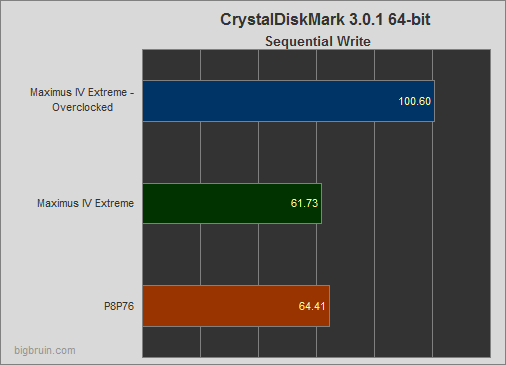 The next two images cover the 512k Read and Write benchmarks. The Read portion shows our stock Max IV motherboard results are slightly bettered by the entry-level board while both get obliterated by the overclocked version of our test sample.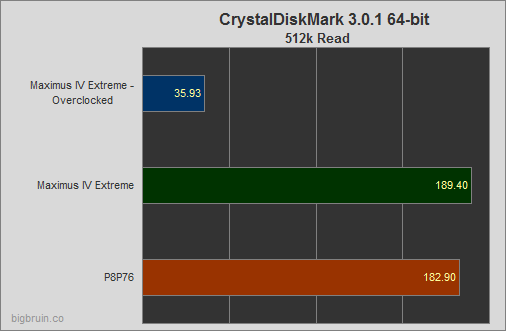 As we saw in the previous benchmark, the roles get reversed on the Write test, only not as badly this time around.