Testing:
Testing the thermal performance of the NZXT HAVIK 140 CPU cooler involved monitoring the processor's temperature in a variety of configurations and conditions. The HAVIK 140 was tested with the Kingston HyperX memory installed, as it showed that the cooler could only use one fan if I wanted to use four memory modules. Therefore, the cooler was tested with one fan (pulling air through the cooler) as well as with two fans in a push-pull setup.
For comparison purposes, the HAVIK 140 was compared against the stock Intel cooler, a Zalman CNPS10X, and a Thermalright AXP-140 in the same test conditions.
For idle conditions, the system was allowed to sit at the Window's desktop with the side panel open and an ambient temperature of 21 Celsius. For load conditions, the processor was stressed and heated by running 3DMark Vantage continuously for one hour. HWMonitor was used to monitor the CPU core temperatures, and an average of the four was calculated for display in the charts below.
The first chart shows the CPU temperature after sitting for 30 minutes at the Window's desktop. As you can see, other than the poor performance of the stock Intel cooler, the others perform about the same - within a degree or so. With one or two fans, the NZXT HAVIK 140 performed exactly the same.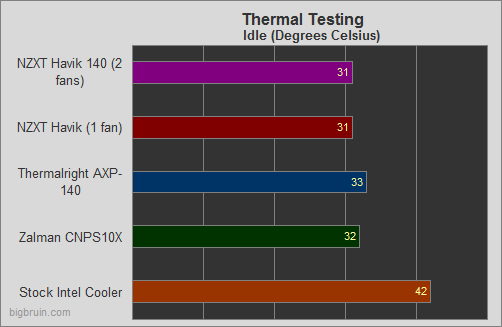 With the load testing, the maximum values recorded by HWMonitor were average and here is where things start to get interesting. First, you can see that with one or two fans, the performance was not all that different. Two degrees Celsius is not much to get excited about, especially when the temperatures are so low. Compared to the other two 'performance' coolers, the NZXT HAVIK 140 is about ten degrees cooler, which is a big deal and very impressive.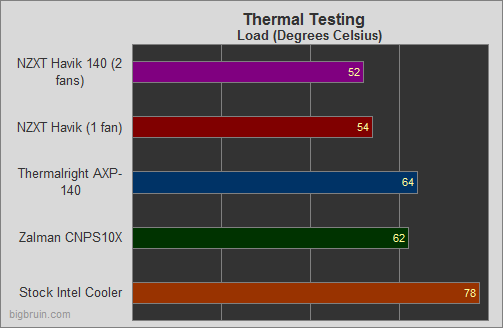 While the fans on the HAVIK 140 are not silent, with a closed computer case they are undetectable. Considering you have the airflow of two 140mm fans, you are not making any trade offs between the noise and the performance level.
Up until this point the CPU had not seen much overclocking due to thermal concerns. With the HAVIK 140 in place (with two fans and the 4x Patriot memory modules) it is now permanently overclocked to 4.3GHz and it runs stable and at temperatures well below what I would consider unsafe. This setup maxes out at under 50C under a heavy load!