The Basics:
We'll start off this section by checking out the base cooler. The below left image shows the tight array of Aluminum fins just above the rather unique pattern of six 6mm heatpipes. By spreading the heatpipes in this manner, the heat can be distributed more evenly and take advantage of the airflow from the two 140mm fans. The below right image shows the top of the cooler and the twelve tips of the heatpipes. As you can see in this view, they are evenly distributed in the fins in both planes.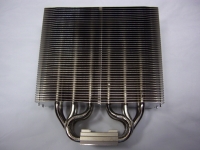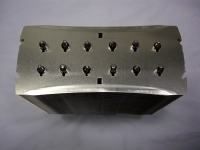 The below right image shows the heatpipes as they exit the cooler's base. Smooth transitions and tight tolerances are good things to see when looking for optimal heat transfer. The below right image merely shows an angled view of the cooler which reveals four ridges on the top of the cooler's base which will keep the mounting brace in place.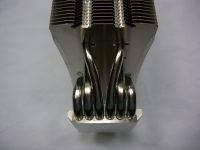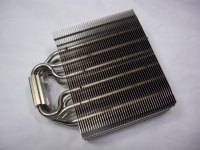 Moving in for a closer look at the base we have the two images below. In the below right image we see that the surface that makes contact with the CPU is flat and smooth, but has an obvious grain to it, implying that it was not over polished.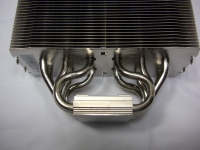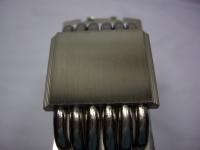 The next image shows the two fans attached to the cooler with the bands described earlier. As you can see, the ends of the bands pull through the screw holes on the fan, and then the body of the band is snapped into a channel on either side to lock the fan in place. This design holds the fan tightly in place, but does allow a little play. This should help reduce extra noise from vibration, and it definitely makes installation a snap.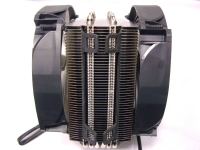 The unique design of the fans feature a round outer profile and not the typical square frame. It looks cools, but also helps to reduce the footprint of a rather large fan. As shown in the images below, you can attach the fans in either orientation so that an effective push-pull blowing configuration can be achieved.