Testing (continued):
AIDA64 Extreme Edition 2.50.2000:
The benchmarks in AIDA64 include memory read, write, and copy speeds (MB/s), where higher is better. The benchmark also includes memory latency (ns), where lower scores are better.
"Memory Read" scores were about the same between the Crucial Ballistix Elite and the G.SKILL Ripjaws. Although once the Ballistix memory was overclocked, a 13% improvement in read performance was measured.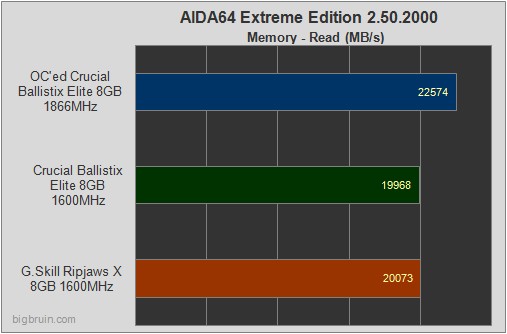 "Memory Write" scores once again showed the 1600MHz kits performed about the same. Overclocked performance of the Crucial Ballistix Elite yielded a nearly negligible 3% improvement in speed.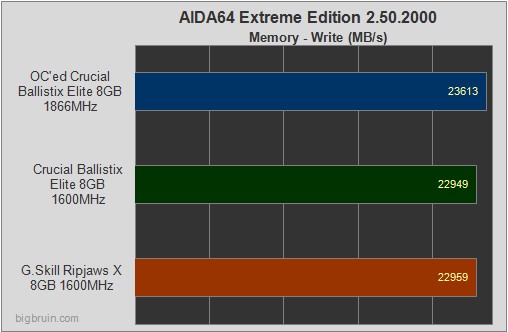 "Memory Copy" was the same for the Crucial Ballistix Elite and G.SKILL Ripjaws memory. Once the Crucial Ballistix Elite was overclocked a 14% improvement in performance was observed.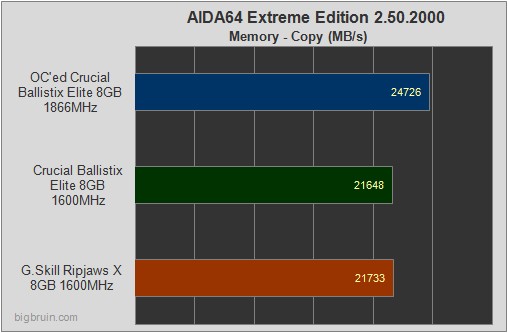 Finally, the "Memory Latency" was tested. Both test modules came in at 43.1ns latency. Once overclocked, the Ballistix Elite latency dropped to 38.6ns, or a 10% improvement.